Redmond is a great place to visit in the summer. Here are some of the best things to do: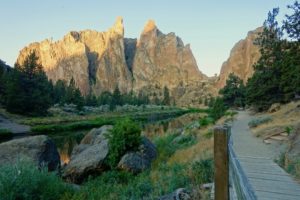 Hiking Near Redmond
Some of the best hiking in Central Oregon can be found a short drive from Redmond. Our favorite trails include:
The riverside trail (a flat scenic hike) and the Misery Ridge hike (a steep climb with impressive views) at Smith Rock State Park.
The riverside hike along the Deschutes River from the Eagle Crest Resort event center toward the Cline Falls Scenic Viewpoint
Steelhead Falls Trail in Terrebonne, Oregon
The impressive Tumalo Falls hike (accessed through Bend, Oregon)
Just be sure to follow hot weather hiking guidelines when you're on the trails in summer.
>> Click here for our overview of hikes around Redmond
Shopping and Restaurants in Downtown Redmond Oregon
Downtown Redmond is an up-and-coming spot in Central Oregon. There's a selection of tasty restaurants if you head toward SW 6th Street. Redmond boasts several highly rated Mexican restaurants in town, as well as charming coffee shops, local breweries, pizza places – there's even sushi and some fun food trucks.
Check out Herringbone bookstore while you're in town, and rent a bicycle to explore the city parks.
Another nearby hide-away for local restaurants and food trucks is in the town of Tumalo, Oregon.
>> Click here for our overview of Redmond Oregon's best restaurants, breweries, and cafes.
Rock Climbing at Smith Rock State Park
With thousands of rock climbing routes, experienced climbers can be found scaling the rock faces all over Smith Rock State Park. For those less adept, you can always hire a climbing guide or participate in a group rock climbing tour which will include all the gear you need, plus expert coaching.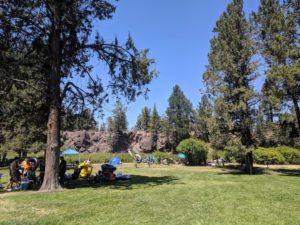 Camping Near Redmond, Oregon
Whether you have an RV, trailer, or will be tent camping, there are several nice campgrounds to choose from within easy driving distance to Redmond and surrounding areas.
Tumalo State Park and Smith Rock State Park campgrounds have tent and RV campsites as well as showers and access to the river. Tumalo also has seven yurts available. In addition to the campsite fees, you will also need a State Park pass – $5 for vehicle parking each day, or $30 for an annual pass.
Keep an eye out for wild animals like deer, otter, eagles, falcons, and beavers!
Rafting and River Sports
White water rafting, canoeing, kayaking, Stand Up Paddle-boarding, and fishing are great summer activities to enjoy in Redmond, Oregon. You'll find these activities leaving from the city of Redmond, at Eagle Crest Resort, or in the nearby towns of Tumalo or Terrebonne. Guided rafting tours, SUP classes, and more can be booked through any number of tour operators in Central Oregon.
Rent Bikes in Redmond Oregon
A great way to discover the Redmond area is by bicycle. Bike around Redmond's best city parks, like Dry Canyon, head out to the mountain bike trails or cruise around town. Bicycle rentals of all kinds can be found at a couple shops in downtown Redmond as well as at nearby resorts like Eagle Crest.
Please check back as we add more details and resources to this What To Do In Summer page!