30+ Best Things to Do in Sisters Oregon
Sisters, Oregon is one of our favorite towns. It's the ultimate base camp for outdoor activities. Located at the foot of the Cascade Mountains, Sisters offers the best location for scenic drives, hiking, relaxing walks, and camping excursions.
Aside from nature, this small Central Oregon city is also known for its unique Old West ambiance and creative arts community.
If you're wondering what to do in Sisters, don't worry! The beautiful natural wonders of the city and its surrounding area is enough to keep you occupied for days. Whether you visit the waterfalls, lakes, rivers, or mountain trails, you can choose to challenge yourself with fun outdoor activities or take it easy and enjoy the scenic views.
We think the charm of Sisters downtown district is an attraction in itself. Stroll or bike through the old-fashioned signs and Wild West-themed buildings. Then, grab a bite or drink at the delicious restaurants lining the streets.
The community proudly hosts a variety of events embracing their traditions. Depending on when you visit, you can catch a roots music festival or even a rodeo.
Keep reading for our list of the best things to do in Sisters, Oregon!
How to Get to Sisters, OR
Sisters, Oregon is located on the east side of the Cascade Mountains in Central Oregon. Sisters is accessible via highways 20, 22, 126 and 242.
For directions to Sisters, Oregon from Bend, follow US-20 W which only takes 30 minutes. 
From Eugene, take OR-126 E and US-20 E. The drive leads you through Willamette National Forest and is about 105 miles or around a 2-hour drive.
If you're coming from Salem, take OR-22 E. It's also a little over 2 hours. Salem is also the fastest route to go through if you're driving from Portland (I-5 S and OR-22 E).
The closest commercial airport you can fly in is Redmond Municipal Airport (RDM). It's approximately a 22-mile drive away from Sisters.
Sisters Oregon Map of Downtown
This map of Sisters attractions is posted outside the Sisters Chamber of Commerce.
Find all the places mentioned in the post on our interactive Central Oregon map:
---
Top Things To Do in Sisters Oregon
Let's dive into the best activities in Sisters…
Go for a hike in Sisters
You'll find some of the best hikes in Central Oregon nearby. Thanks to the area's clear skies, the weather in Sisters is great for hiking almost year-round.
Some of the best Sisters Oregon hiking trails include:
Peterson Ridge Trails is a fun network of mountain biking and hiking trails for all skill levels just South of town.
Indian Ford Meadow Preserve is a peaceful walk through nature with mountain views.
Whychus Creek Trail includes a one-mile accessible trail to the cliffside overlook as well as longer options for intermediate hiking.
Proxy Falls is a short loop off the McKenzie Highway to a spectacular double waterfall in the forest.
Find more great area hikes in Central Oregon here >
Shop in downtown Sisters
Aside from its rich natural wonders, Sisters is also known for its charming downtown district, which makes it one of the cutest towns in Oregon. The Western-theme means you'll find all sorts of old-fashioned facades, colorful signs, and unique stores.
You can shop for fun souvenirs like Western clothes and accessories, Old West trinkets and antiques, modern art, and handmade crafts.

Visit art galleries
There are also several art galleries located downtown, specifically in the Hood Avenue Art District. Some worth checking out are Raven Makes Gallery, Hood Avenue Art, and Clearwater Gallery, and Ken Scott's Imagination Gallery.
Grab a bite and get drinks in downtown
After shopping and strolling through downtown, recharge by grabbing a bite in one of the many local restaurants in the area. From coffeeshops to delis, there are lots of classic choices to fit all budgets and palates – see details below.
Cap the day off by relaxing back and enjoying a glass of wine or craft beer from the local brewery or pubs.
Explore Sisters by bike
A great way to explore downtown and the surrounding areas is by biking around. You'll find lots of bike rentals and local bike shops in town.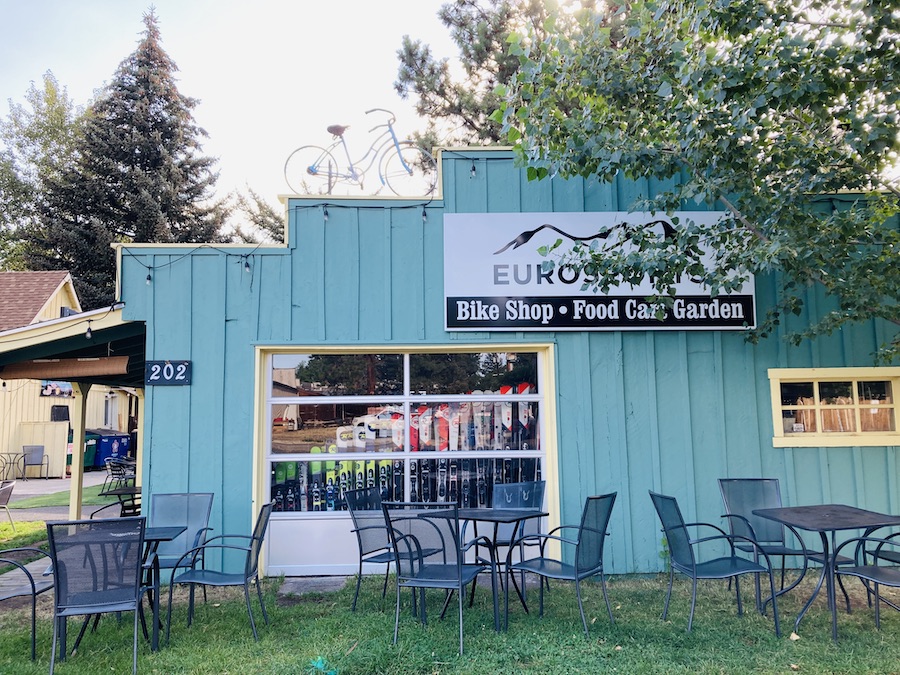 If you're up for a challenge you can also try the mountain bike trails around Sisters. The Peterson Ridge Trail in the south of the town is a local favorite, suitable for beginners to experts.
Other mountain bike options include Suttle Tie and Suttle Lake Trails or the Metolius-Windigo Trail network. With miles of unpaved forest roads around Sisters, gravel riding is a popular option as well.
Catch a Film at Sisters Movie House
Sisters Movie House, in the Five Pines resort area off of Highway 20, is not your average movie theater! With a barn-like exterior, the small theater rooms give the feel of an old-time cinema, while showing first run films.
In addition to popcorn, the theater serves a variety of hot menu items and beer on tap. Or you can pop over to Three Creeks Brewing next door when after the show.
Frolic in the Fountains
Sisters Fir Street Park in town is the perfect thing to do with kids on a hot summer day. Fun fountains are also available at Black Butte Ranch, but this downtown option is free and open to the public!
Play golf at Aspen Lakes Golf Course
Aspen Lakes Golf Course is a public golf course in Sisters. The landscape of the course has signature red bunkers, a naturally occurring phenomenon because of the red cinder in the geology of the land.
This makes for a unique landscape in contrast with the vibrant green grass and the amazing views of the Cascade Range and mountains in the backdrop.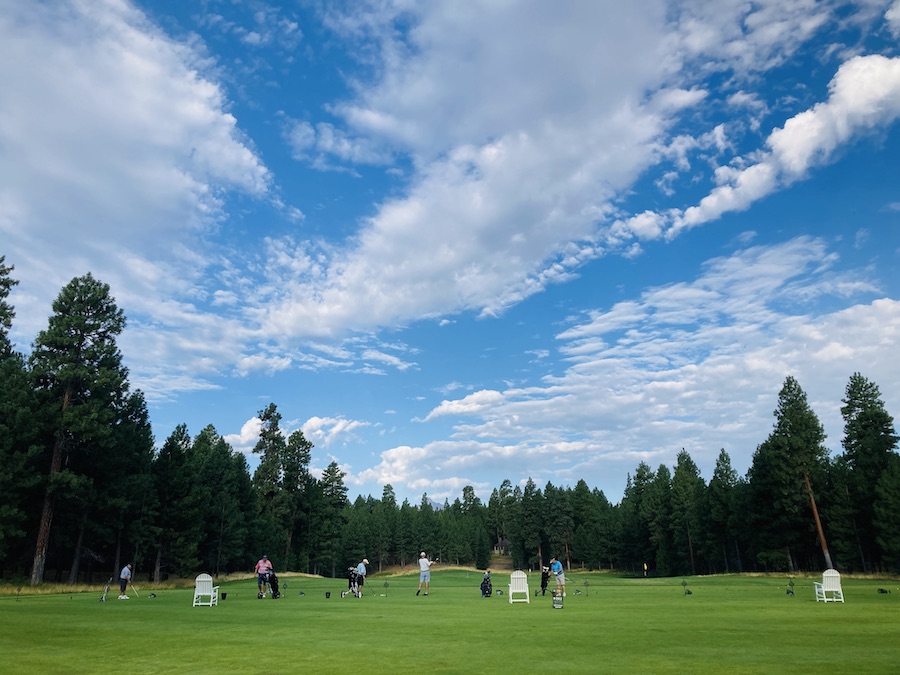 Black Butte Ranch, a public resort, has two golf courses, a putting course, and driving range.
Play a round of disc golf
The Hyzer Pines disc golf course is located on the West end of town, next to Sisters High School, off Highway 242. This 18-hole course is heavily treed, which makes it challenging.
Another popular disc golf course is Pine Nursery in Bend. A 9-hole course is located around the Black Butte Ranch Sports Field.
Disc golf is a free and easy outdoor sport, making it a great family-friendly activity.
Go Birdwatching
Birding in Sisters will expose you to a large number of woodpecker species as well as golden eagles, warblers, bluebirds, and various songbirds. For birding locations, check out East Cascades Audubon Society website.
Discover Local History at Camp Polk Cemetery
Also known as Sisters Cemetery or Hindman Cemetery, this small plot outside of town is the final resting place of many of Central Oregon's original white settlers.
The name Camp Polk originates from the local military post there during the Civil War era. The oldest of the 170 marked graves is from 1880. Hindman's barn to the west is the oldest now standing in the county.
Easy Day Trips from Sisters Oregon
Visit waterfalls near Sisters
One of the best things to do around Sisters is visit the many waterfalls in the surrounding area. The drive alone through McKenzie Pass Scenic Byway brings you to some like Tamolitch Falls and Tumalo Falls in Deschutes National Forest.
In the Cascades, an area west of Sisters, you'll find Proxy Falls, stunning two-veiled falls plunging into a canyon. There's a 1.6 mile loop trail where you can enjoy this waterfall in the Willamette National Forest,
Within the same forest, the 100-foot Sahalie Falls is famous for being in the Disney movie, Homeward Bound. There's an accessible viewing platform just 100 feet from the parking lot, or you can take a 2.6 mile trail that also includes Koosah Falls.
Drive the scenic McKenzie Highway

The McKenzie Highway offers some of the most breathtaking views of Sisters. The McKenzie Highway is part of the McKenzie Pass – Santiam Pass National Scenic Byway and travels through designated wilderness areas, waterfalls, historic sites, and many other natural wonders.
Keep in mind that this highway is closed during the winter from mid-November to mid-June. But during summer, the scenic drive is a must-do.
Visit local lakes
Taking trips to the nearby lakes is one of the most common things to do near Sisters. Another popular place to visit is Suttle Lake. It's a fun destination for all sorts of outdoor activities, especially stand-up-paddle boarding because of its wide-open waters against the picturesque view of Mt. Washington.
Aside from swimming in the lake, you can also try kayaking or motorboating. For more relaxing activities, you can simply camp by the shores, relax, and enjoy the lakeside views.
Lake Billy Chinook in Cove Palisades State Park is set in an impressive, sheer-walled gorge of volcanic basalt. This park has several day use areas for boating, swimming, fishing, picnics, and camping.
Go Stargazing
Sisters is right next to one of the largest areas of dark sky in the continental U.S. The backcountry and high desert around Sisters offer extraordinary opportunities to stargaze.
Whether you go backpacking in the forest, drive up the McKenzie Highway to the summit, or follow Three Creeks Road to the snow parks, you'll find especially great views of the night sky.
U of O's Pine Mountain Observatory or the Sunriver Nature Center & Observatory are excellent stargazing excursions. Or check out the Worthy Brewing Co. Observatory in Bend.
Go Fishing Near Sisters
Fishing is available at many lakes in the area, as mentioned above, and in the Metolius and Deschutes Rivers. This part of Central Oregon is actually one of the country's best regions to fly fish.
Depending on the season and location, you can catch steelhead or rainbow trout. Stop in at a local fly shop for the latest info.
Take Photos at Cole Ranch
Just west of downtown Sisters is of the most photographed properties in the Northwest. Located on Highway 242, this popular viewpoint provides instagrammable shots of the Three Sisters and Broken Top mountains.
Go Camping by the Metolius River
If you want to spend more time by the Metolius River, you have several camping choices. The river cuts through Camp Sherman and has several scenic hiking trails to explore.
The campgrounds line the river with all kinds of accommodation options. You can choose from luxury cabins, boathouses, vintage lodges, and a river resort.
There are also RV campsites and tons of amenities like nearby restaurants and stores stocked with groceries.
Go for a Horseback Ride
There are at least a half dozen ranches that offer guided rides near Sisters. Black Butte Stables offers expertly guided horseback rides amidst beautiful scenery.
You don't have to be an expert. They do tours for all ages and skill levels. Even children as young as three can do a joint ride with a parent.
Lunch is provided for day-long rides, or you can take a shorter horseback tour for one or two hours.
Go Skiing or Play in the Snow During Winter
If you're visiting Sisters during winter, go to Hoodoo Ski Area, a 30-minute drive away from town. There are 34 ski runs available and a park specially designed for sledding or tubing called the Autobahn Tubing Park.
About a mile from Hoodoo is Ray Benson Sno-Park, with a variety of trails for dog teams, skiers, snowmobilers, and snowshoers.
If you want a larger ski resort, you can drive for an hour to Mt. Bachelor Ski and Snowboard Resort, Oregon's largest ski resort. There are over 100 ski runs to choose from for all skill levels and an 800-foot ride in their Snowblast Tubing Park.
Sno-parks require a daily or seasonal permit, which are available at Hoodoo, Black Butte Ranch, and in Sisters at Blazin Saddles, Eurosports, and Hillside Ski & Sport.
Watch the Sunset at Dee Wright Observatory
Stargazing is a great pastime in Central Oregon, where the sky is often dry and clear.
At Dee Wright Observatory, just over the McKenzie Pass, you have wide open views from on top of the mountains with lava fields below. This is one of the best places to see the sunset near Sisters.
Capture the beauty of Sparks Lake
Taking photographs of nature and the scenery is one of the best free things to do while traveling around Oregon. We recommend checking out Sparks Lake, located west of Bend along the Cascade Lakes Highway. It's around an hour's drive from Sisters.
The deep green forests, clear water, and stunning views of South Sister, Broken Top, and Bachelor Butte make it a photographer's dream. You can take one-of-a-kind pictures especially during sunset or sunrise.
Go Rock Climbing
Sisters is not far from Smith Rock, one of the premier locations in Oregon for rock climbing. There are climbing routes for every level of climber, including beginners.
If you're not an experienced climber who can go independently, then Bend Rock Gym is a good place to get started.
For kids, there's a fun rock climbing wall in the Village Green City Park.
Try White Water Rafting Near Sisters
The McKenzie River and Deschutes River are two of the best places to go rafting in Oregon.
The short Upper Deschutes is suitable for young families, which features a Class IV wild water section called Big Eddy but is otherwise more mellow.
The Lower Deschutes allows for multiday rafting trips to explore canyons with numerous outfitters and guide services available.
---
Where to Eat: Best Sisters Restaurants
The best food in Sisters can be found in the restaurants in the downtown district, within walking distance from one another.
Top specialties include breakfast and coffee. You'll have no problem finding a local bakery like Sisters Bakery selling freshly made baked goods and house brewed coffee. Brunch menus of bacon, omelets, and pancakes are also popular.
A local favorite for lunch or dinner is Sisters Meat and Smokehouse. All their sandwiches are made with meats smoked in-house.
If you love Mexican cuisine, then Rancho Viejo is the place to dine. Enjoy delicious tacos or enchiladas with a cocktail in their festive interior atmosphere.
For more options for drinks or a night out, check out Three Creeks Brewing. They serve quality craft beer and have a variety of starters, burgers, and pizza in their menu.
For desserts, visit Sno Cap Drive In, a beloved institution known for their homemade ice cream, sundaes, and old-fashioned milkshakes. And a newer ice cream shop and sweet shop, the SweetEasy Co, has become popular, too.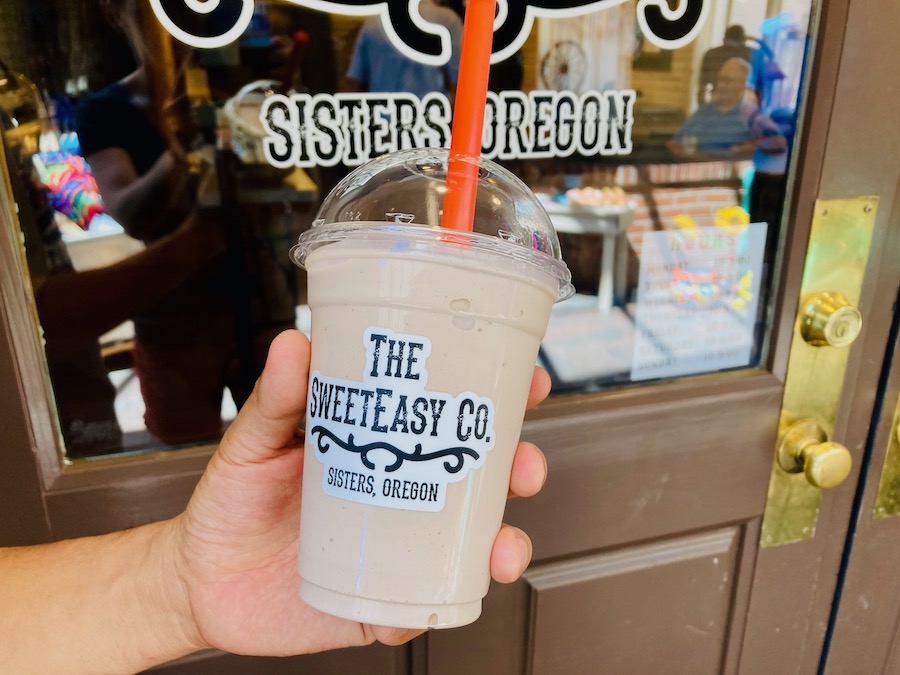 Read our guide to the best restaurants in Sisters here >
Find all these places and more on our interactive map:
---
Where to Stay: Best Sisters Hotels
Deciding where to stay in Sisters is important in ensuring you have the best trip possible. There are several factors to consider when choosing such as your budget and what area you want to stay in.
If you want to stay in the downtown district, then Sisters Bunkhouse is right in the heart of downtown, making it easy to walk to any shop or restaurant during your stay. Keep in mind that this is the only hotel right in the middle of downtown. If you love the central location, you can also look into private rentals through Airbnb. 
For those who want to take in as much of the outdoors as possible, then cabins like in Five Pine Lodge are ideal. There are also resorts like Suttle Lake Lodge or Eagle Crest Resort, which are great for families.
Camping is also another option. The main campground in Sisters is called the Sisters Creekside Campground. This campsite in walking distance to downtown has 60 sites, 23 with full hookups (closed in winter).
There are other campgrounds nearby such as Three Creeks Lake, Allingham, and many more.
Another alternative is to check for house exchanges and home swaps in the area.
---
Events in Sisters Oregon
Events are an important part of the community. Here are some of the top events in Sisters.
The Sisters Farmers Market is one of our favorite things to do in Sisters. Sisters Country is becoming a hub for locally grown produce, and the market has been growing.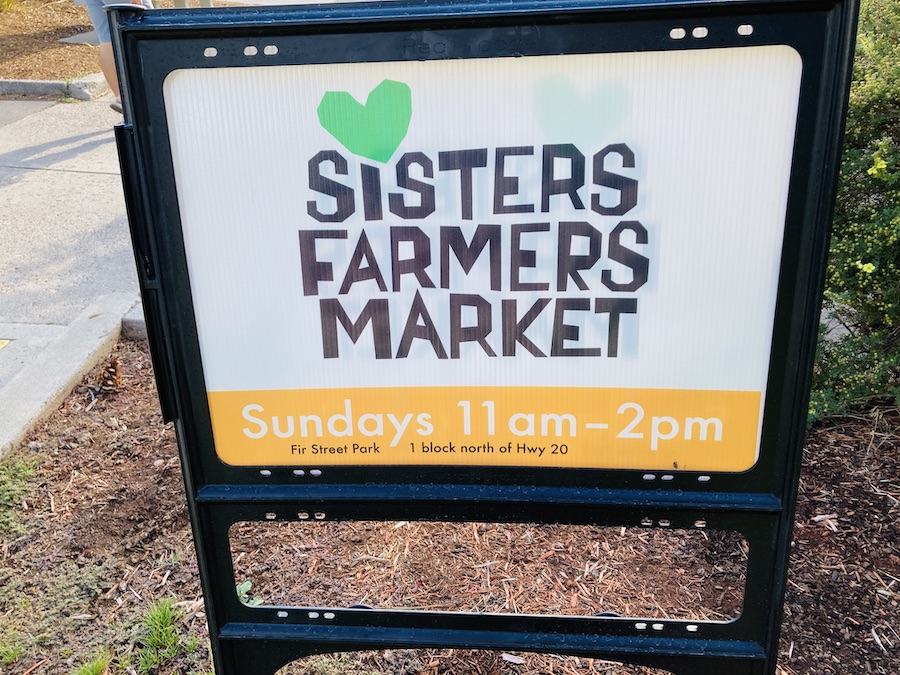 Shop for fresh veggies, fruit, and artisan products and enjoy live music at the market on Sundays in the Summer. It's located at Fir Street Park.
The Outdoor Quilt Show is the biggest outdoor quilt show in the world. It always takes place on the second Saturday of July every year, attracting over 10,000 visitors from all over. Each year there are over 1,300 quilts on display created by artists of all ages and backgrounds. 
Aside from the exhibitions, there are also classes and workshops taught by masters to celebrate the community and the American art and tradition of quilting.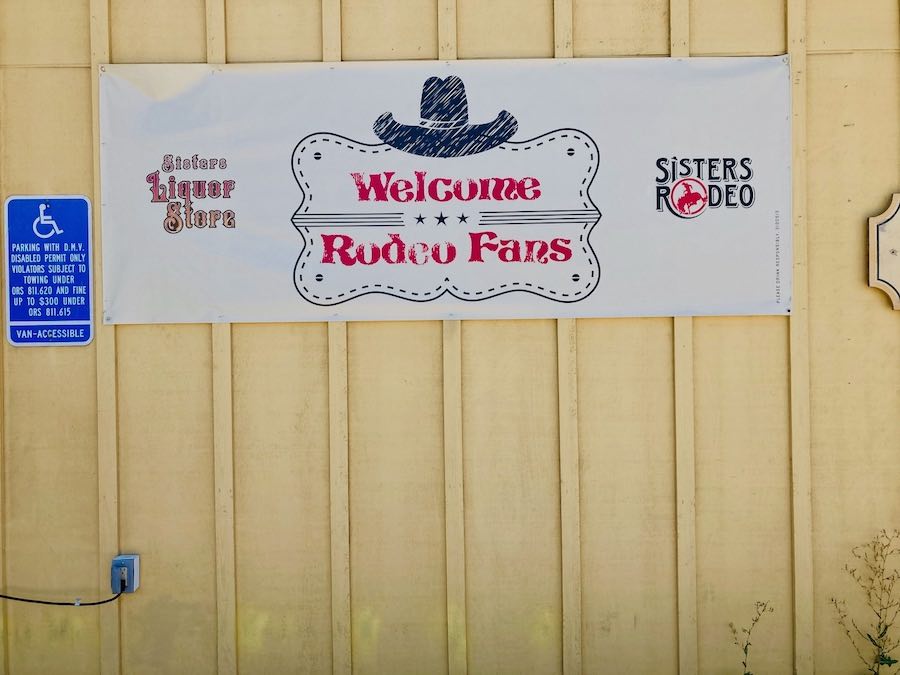 Sisters Rodeo held the second weekend of June every year, is the ultimate Western event. Join in watching professional cowboys and cowgirls put on amazing performances in everything from barrel races, bull rides, parades and more! 
The Sisters Folk Festival is a three-day music festival held every year on the weekend after Labor Day. The festival showcases roots musicians playing everything from blues to rock and country. The lineup usually features around 30 artists that will be playing across 7 different venues. 
Sisters Harvest Faire is a two-day event that takes place every second weekend of October. The fair is held in downtown Sisters and showcases quality handcrafted items from local vendors and businesses in town.
---
FAQ Facts about Sisters Oregon
What is the population of Sisters? There are about 3,200 inside Sisters city limits with up to 10,000 in the school district.
What is the elevation in Sisters Oregon?  3,200 feet
What is the climate in Sisters? The weather in Sisters is hottest and also driest in July (average temperatures are 78 F high and 49 F low). Winter gets down to an average of 20-40 F in December. It rains about 11 inches a year but gets 32 inches of snow annually.
What is the closest airport to Sisters? Sisters Eagle Airport is a mile from town for small planes, however, regular commercial flights go through Redmond Municipal Airport.
---
We hope this guide gives you a good idea of all the fun activities you can do in Sisters. From outdoor recreational sports, to exploring downtown's restaurants and galleries, or watching a rodeo or music festival, you won't run out of fun things to do in Sisters, Oregon!
Read next:
Where to Eat in Sisters Oregon
Where to Stay in Sisters Oregon
Best Resorts in Central Oregon
Best Things to Do in Redmond Oregon
Like this post? Pin it for later or share with friends!