30+ Best Things To Do in Redmond Oregon
Redmond is an up-and-coming city in Central Oregon. More and more people are visiting and discovering that Redmond has as much (if not more!) to offer as nearby Bend and Sisters.
Redmond and its surrounding area is really a great destination for outdoors enthusiasts. You can do all sorts of activities like hiking, rock climbing, skiing, and snowboarding. 
You can also enjoy a laidback stay in downtown Redmond and get a taste of their food through the growing selection of breweries and restaurants as well as connect with the community through its many seasonal events.
This article will show you the best things to do around Redmond, Oregon.
How to Get to Redmond, OR
If you're traveling by air, you'll be flying in via Redmond Municipal Airport (RDM).
Redmond airport is currently served by Alaska Airlines, American Airlines, Delta, and United. There are daily direct flights to Denver, Los Angeles, Phoenix, Portland, Salt Lake City, San Francisco, and Seattle. 
For directions to Redmond, Oregon by car, U.S Route 126 and U.S Route 97 are the main highways that intersect Redmond. It can make a great scenic road trip.
The drive from Portland to Redmond is 146 miles and takes approximately 3 to 3.5 hours. The fastest route is through US 26 and Highway 97 through Mount National Hood Forest and Madras, Oregon.
For a more scenic route through the Detroit lake area and Sisters, Oregon, you can also take Interstate 5 south towards Salem then east over the pass on US-20, OR-126 and OR-22.
The drive from Bend to Redmond at 17 miles, takes only around 25 minutes via Highway 97.
---
Top Things To Do in Redmond Oregon
Whether visiting Redmond in summer or winter, you'll find plenty to do!
Find all these places and more on our interactive map:
Go for a hike in Redmond
You don't have to go far from Redmond to find the best hikes in Central Oregon. With frequent clear skies, the weather in Redmond is great for hiking almost year-round.
Some of the best Redmond Oregon hiking trails include:
Find more great hikes around Redmond OR here >
Rock climb at Smith Rock State Park
Smith Rock State Park is one of Redmond's most popular attractions known as one of the "Seven Wonders of Oregon."
Whether you're a beginner or an experienced climber, the State Park offers thousands of routes for people of all levels. For beginners, you can join in group climbing tours which include gear and guidance by experts.
Aside from traditional climbing, you can also do tons of other activities like bouldering, sport climbing, hiking, mountain biking, and wildlife viewing.
Enjoy the outdoors by camping near Redmond
Within driving distance from Redmond, you'll find several campgrounds to enjoy the best of Oregon's outdoors. They accommodate everything from RVs to trailers and tents.
Tumalo State Park rests along the Deschutes River and has RV campsites, tents, and even yurts!
Smith Rock State Park is also a great option for those who want to go rock climbing or be near the canyons. Keep in mind that in addition to the campsite fees, you'll need a State Park pass – $5 for vehicle parking each day, or $30 for an annual pass.
Discover Redmond by bike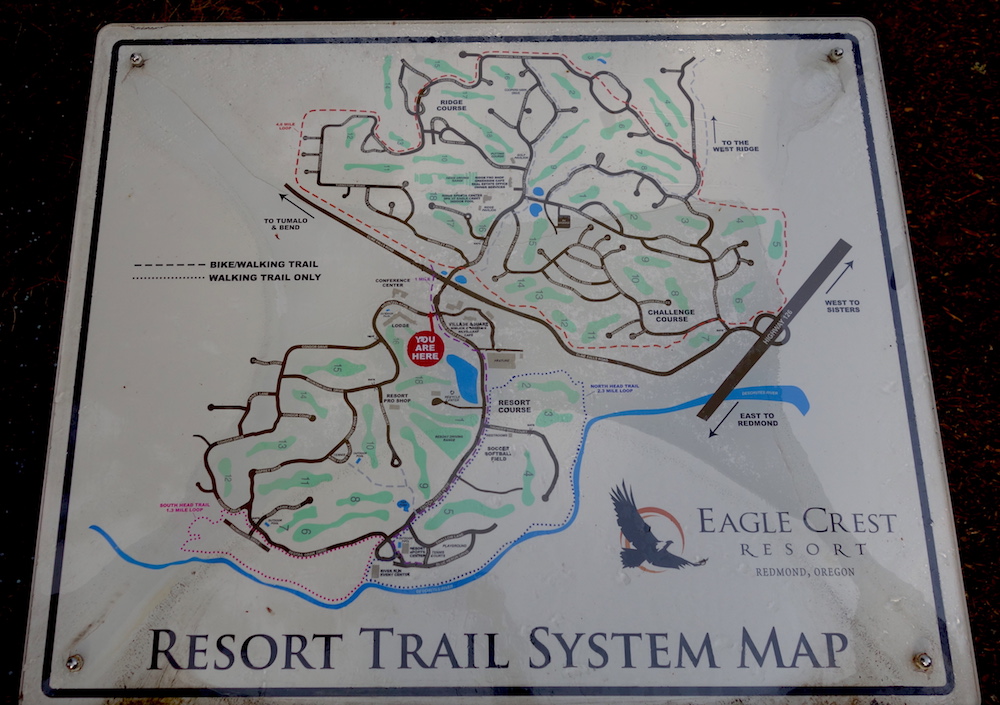 To get a different perspective of Redmond, we recommend exploring the area by bike. Aside from mountain biking, you can also cruise around town or discover the city parks like Dry Canyon or Sam Johnson Park.
You can easily find bicycle rental shops in downtown Redmond, Oregon. In nearby resorts like Eagle Crest, you can rent all different types like mountain bikes, tandem bikes, and children's bikes. 
Explore Redmond Street Art and Statues
Redmond is becoming a great destination for public art as new murals go up and the Art Around the Clock initiative brings in new pieces.
Art Around the Clock is a public art gallery across the entire city with rotating works selected by a jury each year. You can find the locations of all public art on display through this Redmond map.
Try rafting and other river sports
One of the best things to do in Redmond, Oregon during summer is water sports. If you're unsure of what to do, you have tons of options: white water rafting, kayaking, canoeing, stand up paddle-boarding.
For those who want something more laidback, floating the river in innertubes (my personal favorite) or fishing by the river are also great summer activities in Central Oregon.
The McKenzie River and Deschutes River are two of the best places to go white water rafting in Oregon.
Most of these are things to do near Redmond, since you'll find that you have to go out of the city to Eagle Crest Resort or nearby towns like Tumalo or Terrebonne. You can easily book lessons or guided activities through your tour operator of choice. 
Go skiing and snowboarding in resorts near Redmond
Winter in Redmond is also full of fun experiences. Just 35 miles southwest of the city, you'll find Mt. Bachelor Ski and Snowboarding Resort. The resort's terrain is very accessible, with 11 ski lifts available. Choose from 101 ski runs covering all skill levels from beginner to experts.
Hoodoo Ski Area is another great resort nearby Santiam Pass. Though Hoodoo Ski Area has only 34 ski runs available, there's also other activities like night skiing and tubing.
About a mile from Hoodoo is Ray Benson Sno-Park, with a variety of trails for dog teams, skiers, snowmobilers, and snowshoers.
Sledding near Redmond
As mentioned, Hoodoo Ski Area has a special area with fun slides called the Autobahn designed specifically for sledding or tubing. 
You'll also find the biggest snow tubing experience in Central Oregon at Mt. Bachelor's Snowblast Tubing Park. This activity is a hit with families as their specially-designed tows bring you all the way to the top of the 800-foot ride full of rollers.
Ice skating in Redmond
During winter the City of Redmond Parks Division and the Redmond Area Parks and Recreations District work together to operate an outdoor ice skating rink in Downtown Redmond. It's located on 7th Street Between SW Deschutes Ave and SW Evergreen Ave.
If you're passing by Bend, you can also find a skating rink in Sunriver Resort (in the Village at Sunriver Ice Arena). 
Cross country skiing and snow shoeing
Redmond is perfect for hiking all-year round because it enjoys some of the driest weather in the Pacific Northwest. This means that during winter, activities like cross country skiing, nordic skiing, snowmobiling and snow shoeing are ideal. 
Aside from Mt. Bachelor and Ray Benson Sno-Park, you can try out these activities in Deschutes, Ochoco, and Willamette National Forests. Eagle Crest trails can also be nice during snow.
Check out trails.com to find a route that best suits your preferences. 
Visit Cline Falls State Park
If you're on the search for free things to do in Redmond, visit Cline Falls State Park. Located along the banks of the Deschutes river, the State Park is a great place to picnic by the grills or take in the outdoors in the different viewpoint areas.
The park also has fishing access to the river and a fish cleaning station. You can even try inner tubing in some short stretches of the river where the current is fast enough.
Visit Petersen Rock Garden and Museum
Redmond has its fair share of small, fascinating museums. The Petersen Rock Garden is full of miniature replicas of famous buildings, bridges, and castles, all made from pieces of glass, rocks, and shells.
The Rock Garden is also home to a small museum displaying fossils, agates, and rare geodes.
Check out the Art of Alfred A. Dolezal Gallery
You can also visit The Art of Alfred A. Dolezal Gallery in Terrebonne. It houses a collection of eclectic oil paintings by the Austrian-born painter. Each symbolic artwork comes with a descriptive narrative.
Tour the Gompers Distillery in Redmond
Gompers Distillery is Redmond's first distillery to produce gin in small, hand-crafted batches made from local ingredients. Their award-winning creations include spirits infused with hand-picked lavender, Oregon juniper berries, and golden bear.
This family-owned business is rich with history, which you can learn by visiting the distillery's speakeasy-themed tasting room. They offer tours, tasting flights, and delicious craft cocktails.
Explore the Redmond Caves Recreation Area
Another interesting place to visit is the Redmond Caves Recreation Area. It's made up of five caves that were formed by volcanic lava flows from the Newberry Volcano.
Learn about the caves' history dating back to over six thousand years when they were used by Native Americans.
Visit Lake Billy Chinook
Lake Billy Chinook in Cove Palisades State Park is set in an impressive, sheer-walled gorge of volcanic basalt. This park has several day use areas for boating, swimming, fishing, picnics, and camping.
Go Stargazing
Redmond is right next to one of the largest areas of dark sky in the continental U.S. The backcountry and high desert around Redmond offer extraordinary opportunities to stargaze.
Whether you go backpacking in the forest, drive up the McKenzie Highway to the summit, or follow Three Creeks Road to the snow parks, you'll find especially great views of the night sky.
U of O's Pine Mountain Observatory or the Sunriver Nature Center & Observatory are excellent stargazing excursions. Or check out the Worthy Brewing Co. Observatory in Bend.
Go Fishing Near Redmond
Fishing is available at many lakes in the area and in the Metolius and Deschutes Rivers. This part of Central Oregon is actually one of the country's best regions to fly fish.
Depending on the season and location, you can catch steelhead or rainbow trout. Stop in at a local fly shop for the latest info.
Play at Hope Playground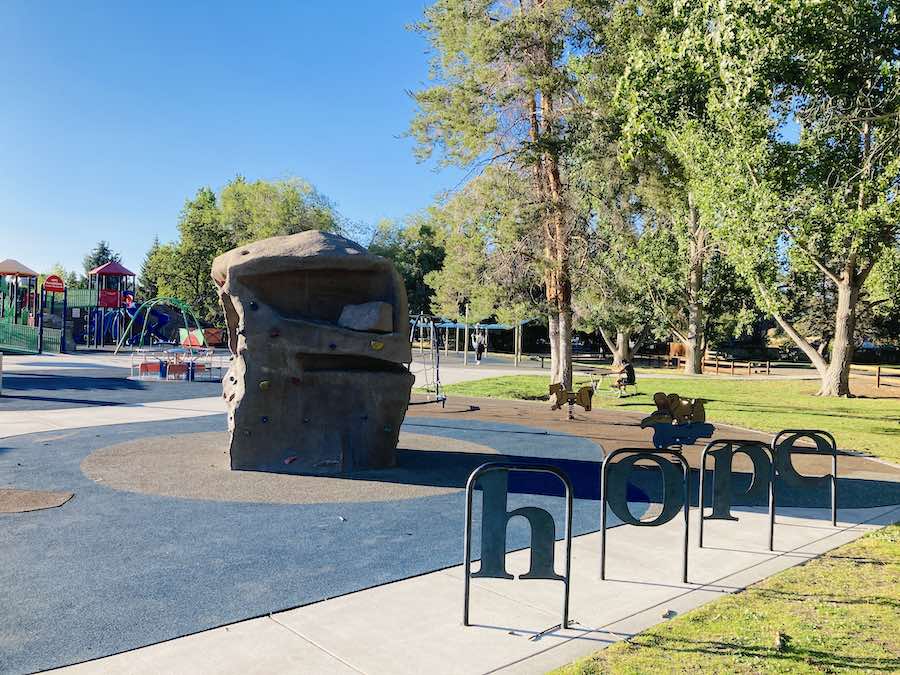 Hope Playground at Sam Johnson Park is a fun activity for kids in Redmond, Oregon. The innovative play structures are designed to be accessible and inclusive for children of all abilities.
With a wheel chair-friendly merry-go-round and specially designed zipline seats among the 70 play items, this impressive community-generated venture has become the largest inclusive playground in the Northwest!
Find all these places and more on our interactive Central Oregon map:
---
Where to Eat: Best Redmond Restaurants
With all of Redmond's eateries, finding the best food is all a matter of your personal preference. 
The most highly-rated restaurants in the area are Mexican. In places like Diego's, you'll find everything from authentic fare like gorditas and homemade tortillas and chips to more fusion dishes like chicken fried steak or fried cheesecake. 
If Mexican cuisine is not your thing, brunch is another popular option. Central Redmond is home to some neighborhood favorites like Mo's Egg House  serving traditional breakfasts of coffee, pancakes, eggs benedicts, and more.
Something you can't miss out on are Redmond breweries!
Locals and tourists alike flock to Redmond's up-and-coming trendy breweries and pubs. Not only can you get a pint of your beer of choice, but many of these breweries also have outdoor patios with food trucks.
Read our full list of the best restaurants in Redmond here >
Where to Stay: Best Redmond Hotels
From resorts, boutique inns, to business-friendly hotels, Redmond offers all sorts of accommodations for every kind of vacationer. 
Redmond Eagle Crest Resort has a wide range of amenities. It's especially ideal for families who enjoy outdoor activities since the property has golf courses, sports courts, rec rooms, and swimming pools. There's also different types of accommodations available within the resort, from lodges, luxury chalets, and townhouses.
In downtown, you'll also find SCP Redmond Hotel, a unique environment-friendly hotel in a historic property. There are also several tried and tested, business-friendly suites near the airport which have all the essential facilities to make a fuss-free stay.
For more information, check out our full guide on the best hotels in Redmond here >
Events in Redmond Oregon
The vibrant community of Redmond is filled with fun year-round events and celebrations!
Summer is packed with events starting off strong with Music On The Green and Music On The Canyon, a series of free concerts every other Wednesday in June.
The 4th of July Parade is also a big hit. The month wraps up with Bacon, Brew & Balloons, which as the name suggests is filled with food, drinks, and ends with the balloon night glow.
The Deschutes County Fair & Rodeo, the largest annual event in Central Oregon, takes place in August. From concerts, rides, and delicious carnival food, this is the one big event you can't miss. 
After in the second week of September, the High Desert Swap Meet also takes place in the Deschutes County Fairgrounds. It's one of the largest one-day automobile shows and one of the largest swap meets in the state. 
Halloween is also a blast with Trick Or Treat on 6th Street. They close down the 6th so kids and families are free to trick or treat throughout the stores downtown.
Then leading up to Christmas, you have the Holiday Village Market in November and the Starlight Christmas Parade in December. 
In January, you can participate in the Crab Crack, an annual all-you-can-eat Dungeness Crab contest in downtown Redmond.
With all these events in Redmond, there's always something to do whenever you visit!
---
No matter the season, there's a lot of fun things to do in Redmond, Oregon! Both summer and winter are filled with exciting activities showcasing Redmond's beautiful outdoors.
Even if you're looking for a low-key staycation, participating in the community's events or exploring the restaurants and breweries downtown is guaranteed to be an unforgettable experience.
You might also like:
Best restaurants in Redmond
Best brew pubs in Redmond
Best breakfast in Redmond
Redmond Locals' Top 10 Places to Visit
Like this post? Pin it for later or share with friends!