Best Breakfast in Redmond Oregon
There's no better way to start the day than by enjoying a hearty breakfast, in my opinion.
In Redmond, you'll find restaurants and coffee shops that serve traditional American-style classics, brunch favorites like mimosas and avocado toast, Mexican breakfast dishes, and quick bites like pastries and bagels.
Here is a list of our favorite breakfast spots in Redmond, Oregon.
Our Favorite Breakfast Restaurants in Redmond, Oregon
Mo's Egg House
Mo's Egg House is one of our top places for breakfast in Redmond. This family owned and operated restaurant promises down to earth home cooked meals with great service. They have an extensive menu that has everything from pancakes, quesadillas, French toast, and sandwiches.
Their specialty is eggs: omelettes, eggs benedict, huevos rancheros, scrambles, and more! And you can also get a complimentary coffee cake with your order, which is amazing.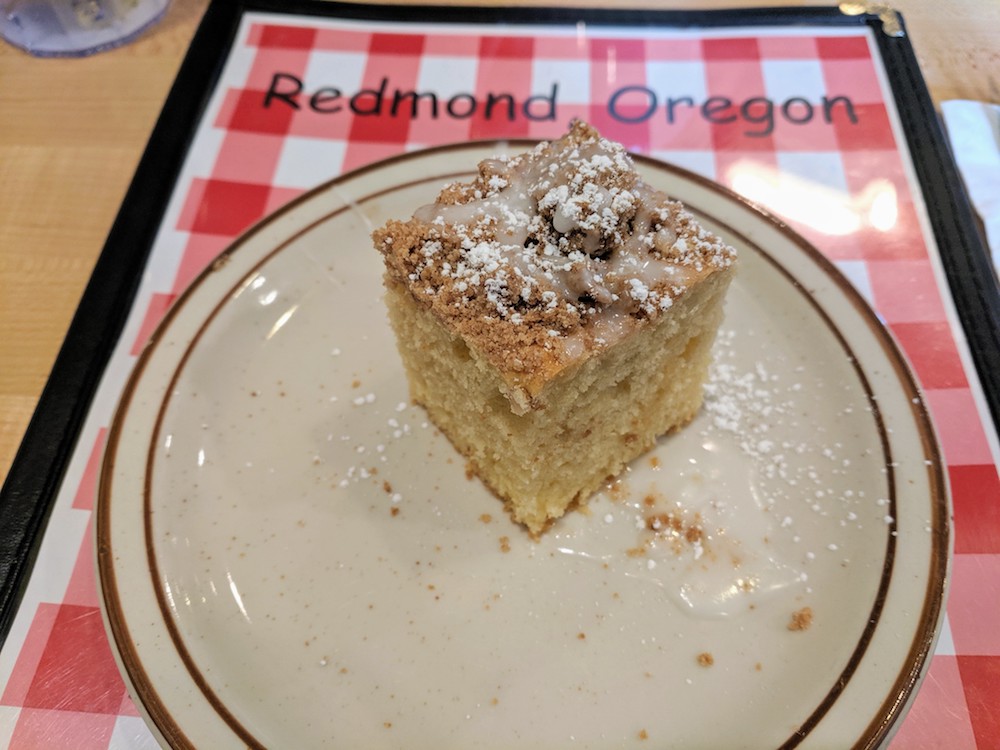 Tips: Their crab eggs benedict are a must-try – it's our personal favorite!
950 SW Veterans Way, Redmond, OR 97756. Mon-Sun 7am to 2pm.
Christie's Kitchen
Christie's Kitchen serves traditional American breakfast and lunch dishes. The space is a cute old red two story house that was converted into a restaurant with outdoor seating in their lovely patio during warm weather.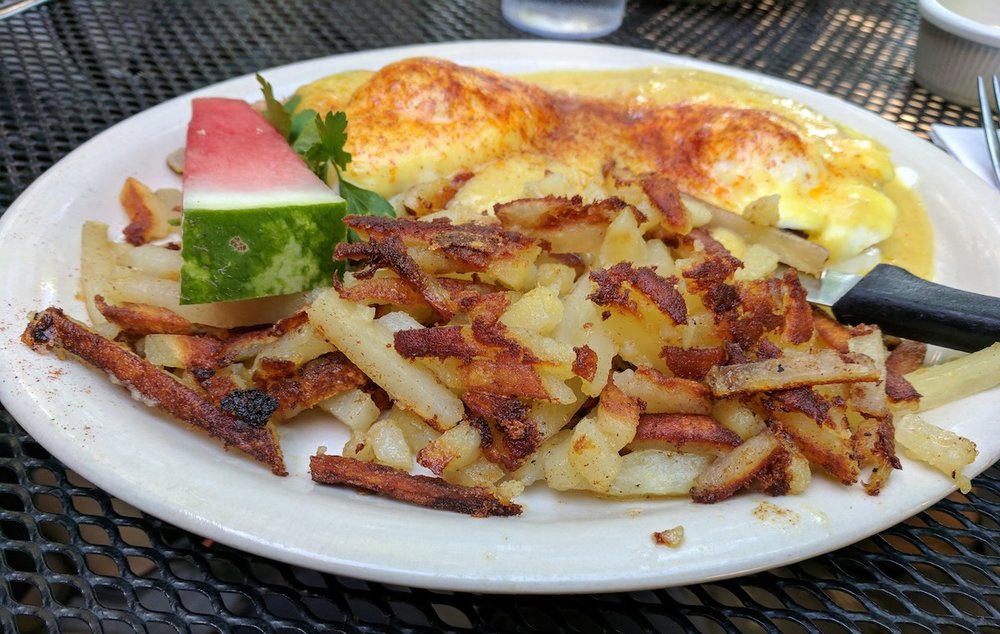 Their menu covers all the bases from homestyle bacon, farm-style eggs, and even vegan and gluten-free options.
Tips: Popular items include their quiches and eggs benedict. Reviews mention that portions are quite generous.
614 NW Cedar Ave, Redmond, OR 97756. Tue-Sun 7am to 2pm.
One Street Down Cafe

One Street Down Cafe is a charming cafe with a patio that serves all-day homemade breakfast. Each day they serve different styles of eggs benedict so make sure to ask what's their special of the day. Some favorites include their biscuits and gravy, avocado toast, homemade cinnamon rolls, and mimosas.
Tips: They have daily eggs benedict specials. Seating can be a bit limited for larger groups of more than 4 people.
124 SW 7th St, Redmond, OR 97756. Mon-Sun 7am to 2pm.
Provisions Market
 

View this post on Instagram

 
Provisions Market is known for being the ultimate source for organic and locally-sourced food and drinks carrying brands like Backporch Coffee, Sister's Bakery and Laird Superfoods.
Tthey also have a bright and sunny cafe where you can order healthy versions of breakfast staples like avocado toast, bagels, oatmeal, and more. They also have a wide variety of drink options from kombucha, custom smoothies, and local coffee and tea.
Tips: Most of their breakfast items can be made vegan and gluten-free so make sure to ask!
521 SW 6th St, Redmond, OR 97756. Mon-Sun 7am to 2pm.
The Original Pancake House
The Original Pancake House is a beloved institution offering traditional American-style breakfast. This casual eatery promises friendly service while serving you breakfast favorites like country fried steak, corned beef hash, buttermilk pancakes, and egg dishes. For sweet treats, make sure to try their specialties: dutch babies and fresh fruit crepes.
Tips: If you're a large group, they have a family-style breakfast that has eggs, grilled potatoes, pancakes from scratch, and a choice of meat that's good enough for 4 people.
3030 SW 6th St, Redmond, OR 97756. Mon-Sun 6am to 2pm.
Mi Cielo Mexican Restaurant
Mi Cielo is one of the best Mexican restaurants in Redmond, serving the city for over 10 years. For breakfast, the restaurant serves both American classics and Oaxacan-style dishes like huevos rancheros, chilaquiles, and different types of burritos.
They also use fresh ingredients for all their homemades sauces and salsas which are prepared daily.
Tips: Their breakfast burritos are a crowd favorite and the portions are big!
950 SW Veterans Way #102, Redmond, OR 97756. Mon-Fri 9am to 7pm. Sun 8:30am to 7pm.
Big O Bagels
Big O Bagels is a small bagel chain with stores all over Central Oregon. They have 10 cream cheese flavors and over 15 types of bagel flavors. You can go as simple as you want or add as many fillings based on your preference. They have a good selection of breakfast bagels with fillings like egg, bacon, ham, sausage, and more.
Tips: If you want fresh bagels hot off the oven, then make sure to get there early!
816 SW 17th St, Redmond, OR 97756. Mon-Sun 7am to 2pm.
Best Coffee Shops and Cafes in Redmond, Oregon
Silverleaf Cafe
Silverleaf Cafe is a resort cafe mainly serving Eagle Crest Resort but it's still open to the public. They have a wide menu with lots of options from pizzas, wings, and tacos. But they also have a good selection of pastries and drinks like tea, coffee, and smoothies.
Tips: If the weather is nice, head on to their patio for outdoor seating and a relaxing atmosphere.
7535 Falcon Crest Dr #300, Redmond, OR 97756. Mon-Sat 12pm to 9pm.
Honey and Pine Coffee Company
 

View this post on Instagram

 

Honey and Pine Coffee Company is a cute drive-through spot serving a wide range of options from cold brews, flavored lattes, tea, hot chocolate, smoothies, and even energy drinks. For sweet treats, they're known for their fresh donuts and maple bars.
Tips: Try their signature drink – the Honeycomb Latte! There's a small table by the cafe but keep in mind that it's only for take out.
610 SW 6th St, Redmond, OR 97756. Mon-Sun 6am to 6pm.
Redmond Coffee Company
 

View this post on Instagram

 

Redmond Coffee Company is a small local coffee shop with great prices and spacious seating since they have both indoor and outdoor seating. Enjoy hot coffee drinks, iced flavored lattes and some options for food. These include breakfast burrito bowls, bagels, muffins, cinnamon rolls, yogurt parfaits, and more.
Tips: Their cinnamon rolls and chai lattes seem to be favorites from people's reviews.
3716 SW 21st Pl, Redmond, OR 97756. Mon-Fri 7:30 am to 3pm. Sat-Sun 8am to 2pm.
Junction Roastery

Junction Roastery prides itself in being both a coffee shop and a social club. They place emphasis on community and genuine interactions all while serving simple but high-quality coffee. Their selection of baked goods, all homemade in-house, include coffee cake, croissants, cookies, scones, bagels, and muffins.
Tips: With their community values and classy interiors, Junction Roastery has a great ambiance for hanging out with friends. Their mocha latte comes highly rated.
708 SW Deschutes Ave, Redmond, OR 97756. Mon-Sun 7am to 4pm.
Tite Knot Craft Coffee
 

View this post on Instagram

 

Tite Knot Craft Coffee serves specialty coffee and fresh baked goods out of a cute coffee truck. Aside from espresso drinks and iced coffee, they also serve tea lattes and kombucha. They also serve delicious baked goods that change daily. The crowd favorite is their scones. They're freshly made and come in flavors like white chocolate strawberry, maple pecan, and blueberry with lemon zest.
Tips: Ask about their house favorites, like maple cinnamon latte and ginger white mocha. It may seem like they only have outdoor seating but they also have some spots inside.
706 SW 10th St, Redmond, OR 97756. Tue-Sat 6am to 4pm. Mon 6am to 12pm. Sun 8am to 2pm.
Best Breakfast Near Redmond, Oregon
If you find yourself wanting to venture outside Redmond, check out these nearby places for even more breakfast options.
Tumalo Coffeehouse – Tumalo, Oregon
Tumalo Coffeehouse is located in Tumalo, a small town just 15 minutes away from Redmond, and it's one of our favorites in the area. For drinks, our personal favorites are their home-made chai tea, fruit smoothies, and lavender vanilla-infused honey lattes.
They also have a good range of food options from egg bake sandwiches, pastries like brownies, cakes, and pies, and even wraps for lunch.
See our full review of Tumalo Coffeehouse here >
Java Rock – Terrebonne, Oregon
Java Rock is found in Terrebonne, another nearby small town to the north of Redmond. This unassuming coffee stand serves a good selection of unique and creative specialty drinks. They also have all the classic coffee drinks as well as breakfast burritos, biscuits and gravy, bagels, and breakfast sandwiches.
Aerie Cafe – Eagle Crest Oregon
Aerie Cafe is located in The Lodge inside the Eagle Crest Resort, which is just a few minutes away from downtown Redmond. The cafe offers casual dining made with fresh ingredients in a warm, family-friendly setting. Their breakfast items are traditional American dishes served in generous portions.
---
From coffee, pancakes, eggs and bacon, and baked goods, satisfy every breakfast craving you have in our favorite breakfast restaurants and coffee shops in Redmond!
Like this post? Pin it for later or share with a friend!