Best Restaurants in Sisters Oregon
Sisters, Oregon is one of our favorite towns in Central Oregon. Though it's small size means it doesn't have as many restaurants as Bend or Redmond, there are still plenty of great dining options.
From classic American food to Mexican and Thai dishes, food carts to cafes, here are the best restaurants in Sisters, Oregon.
Best Restaurants Sisters Oregon
After a long day of hiking or mountain biking in Sisters' Cascade Mountains, there's nothing better to do than stopping for some lunch with scenic views or treating yourself to the best dinner at any of the restaurants in the downtown district.
Find all these places and more on our interactive map:
Open Door Wine Bar Restaurant in Sisters
Despite being a small town, you can easily find five-star level restaurants in Sisters, Oregon. The Open Door in the downtown district is one of these. Featuring a patio, private dining nooks, and rustic farm tables, the relaxing atmosphere combined with their gourmet dishes like halibut, seafood lasagna, and market-fresh salads make for a top notch dining experience.
Tips: Must-try items include the seafood lasagna, beet salad, and halibut. Wednesday and Saturdays seem to be especially busy for lunch service.
303 W Hood Street, Sisters, Oregon 97759. Tue-Sat 11:30am to 8pm.
Cottonwood Cafe
If you're looking for great breakfast in Sisters, Oregon, Cottonwood Cafe is the place to be. They specialize in upscale breakfast and brunch, serving various filling breakfast options like bacon and eggs benedict, homemade biscuits and gravy, and breakfast burritos. You can also enjoy brunch cocktails in their beautiful cottage backyard.
Tips: Signature items include homemade biscuits and gravy. Operates on a walk-in basis so no reservations required.
403 E Hood Ave, Sisters, Oregon 97759. Open everyday 8am to 2pm.
Sisters Saloon and Grill
Sisters Saloon and Grill is more than a restaurant in Sisters serving good food. First built in 1912 as the Hotel Sisters, it's also a historical landmark of the city. It has since been restored as a restaurant with charming Old West touches. Enjoy fresh takes on Western favorites like burgers and steaks.
Tips: Brussel sprouts come highly rated for appetizers. Popular main dishes include chicken pot pie, prime rib sandwich, and the saloon burger.
190 E Cascade Ave, Sisters, Oregon 97759. Sun-Thu 11am to 9pm. Fri-Sat 11am to 10pm.
Rancho Viejo Mexican Restaurant in Sisters OR


Another great place for delicious food in downtown Sisters is Rancho Viejo. As the oldest Mexican restaurant in Sisters, Rancho Viejo has been serving typical Mexican dishes like carne asada, enchiladas, and burritos since 2007. The festive interior atmosphere and pleasant backyard patio make for the best lunch experience.
Tips: Make sure to pair your food with their margaritas or wide selection of tequila from their bar menu.
150 E Cascade Avenue, Sisters, Oregon 97759. Thu-Mon 2pm to 9pm. Closed on Wednesdays.
3 Creeks Brewing
If you're looking for breweries in Sisters, Oregon, Three Creeks Brewing is the best one you'll find. Located on the east side of Sisters, this family-friendly pub promises uncompromising quality Northwestern-style craft beers. Enjoy happy hour in a cabin-like woodland setting while eating pub classics like fish and chips, burgers with a twist, and many more.
Tips: Check out their weekly specials with suggested beer pairings! The lunch special is available until 4pm, when the dinner special starts.
721 Desperado Ct., Sisters, OR 97759. Tue-Thu and Sun 12pm to 7pm. Fri-Sat 12pm to 8pm.
Sisters Meat and Smoke House
Sisters Meat and Smokehouse is an artisanal butchery and eatery selling all sorts of fresh meat. You can buy charcuterie boards and sandwiches using their house-smoked and cured meats. Each sandwich comes with chips and a cookie! You can also get beer on tap from Oregon's best breweries.
Tips: Popular sandwiches include tri-tip, smoked turkey, and reuben. Food and alcohol service finishes at 5:30pm.
110 S Spruce St, Sisters, OR 97759. Open everyday 9am to 6pm.
June's Asian Kitchen
For your fix of delicious Asian food in Sisters, Oregon, June's Asian Kitchen is a must-go. Known for their comforting Thai cuisine and great service, this local eatery in downtown serves everything from pad thai, curries, and appetizers like spring rolls and potstickers.
Tips: Their version of stir-fried noodles, called drunken noodles, and yellow curry come highly rated in reviews.
291 E Cascade Ave, Sisters, OR 97759. Tue-Sat 11:30am to 7:30pm.
Philadelphia Steaks and Hoagies
Philadelphia Steaks and Hoagies is a family-owned restaurant operating since 1987. As the name suggests, they pride themselves in selling the best cheesesteaks in the West Coast. The classic Philly cheesesteak is obviously a must-try but the pepper cheesesteak or mushroom cheesesteak are also favorites.
Tips: If you want to try something new, they offer a cheesesteak hoagie – the best of both sandwiches
352 E Hood Avenue Suite B, Sisters, OR 97759. Sun-Wed 11am to 5pm. Thu-Sat 11am to 7pm.
---
Best Bakeries, Treats, and Cafes in Sisters OR
Perhaps even more than Sisters restaurants, the cafes and bakeries are our true favorite places to eat in town. We love to stop by and grab a pastry on our way to and from Redmond.
Sisters Bakery
Sisters Bakery is a cozy bakeshop that's perfect for an early morning cup of coffee. Accompany their house brew with freshly made baked goods. Choose from donuts, scones, cinnamon rolls, croissants, and many more. For savory treats, you can opt for their famous sourdough and focaccia.
Tips: Top pastries to get are donuts, marionberry coffee cake, and bear claws.
251 E Cascade Ave, Sisters, OR 97759. Mon-Thu 6am to 3pm. Fri-Sun 6am to 4pm.

Angeline's Bakery and Cafe
Angeline's Bakery and Cafe is a beloved institution specializing in gluten-free and vegan baked goods. Located just off the main road, the cafe boasts of a spacious lawn area that's great for enjoying their food with smoothies or drinks from their juice bar.
Tips: Don't miss out on their savory treats like the breakfast bagel and tofu crunch wrap.
121 W Main Ave, Sisters, OR 97759. Open everyday 7am to 3pm.
Sisters Coffee Company
Sisters Coffee Company is a haven for all coffee lovers. They offer fresh roasted coffee, drip coffee, and artisanal espresso drinks in a quaint, homey cabin complete with a fireplace. Their brunch menu includes burritos, signature toasts, and fresh pastries.
Tips: Food is only served until 3pm!
273 W Hood Ave, Sisters, OR 97759. Open everyday 6am to 6pm.

Sisters Old Fashioned Sno Cap Drive In
Sno Cap Drive is a classic, all-American drive-in where you can get the ultimate comfort food like burgers, fries, milkshakes, and ice cream. The old-fashioned drive-in style diner atmosphere will definitely take you back in time but you can also take in the views from their outdoor picnic tables.
Tips: Try out their homemade ice cream flavors like cascade blueberry, cookie monster, and pina colada.
380 W Cascade Ave, Sisters, OR 97759. Open everyday 11am to 6pm.
The SweetEasy Co: Sisters Ice Cream, Coffee, and Sweets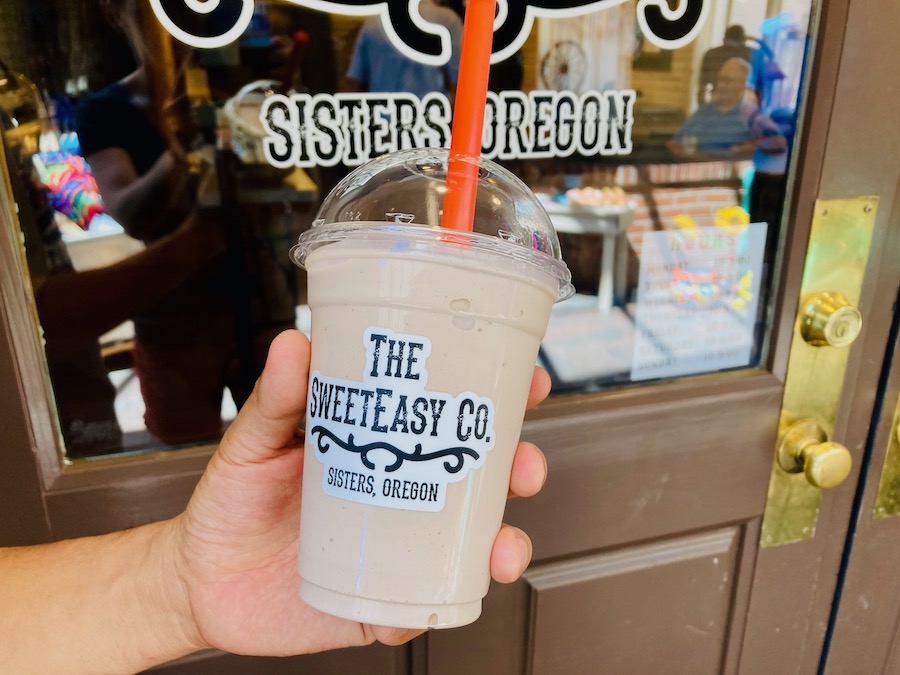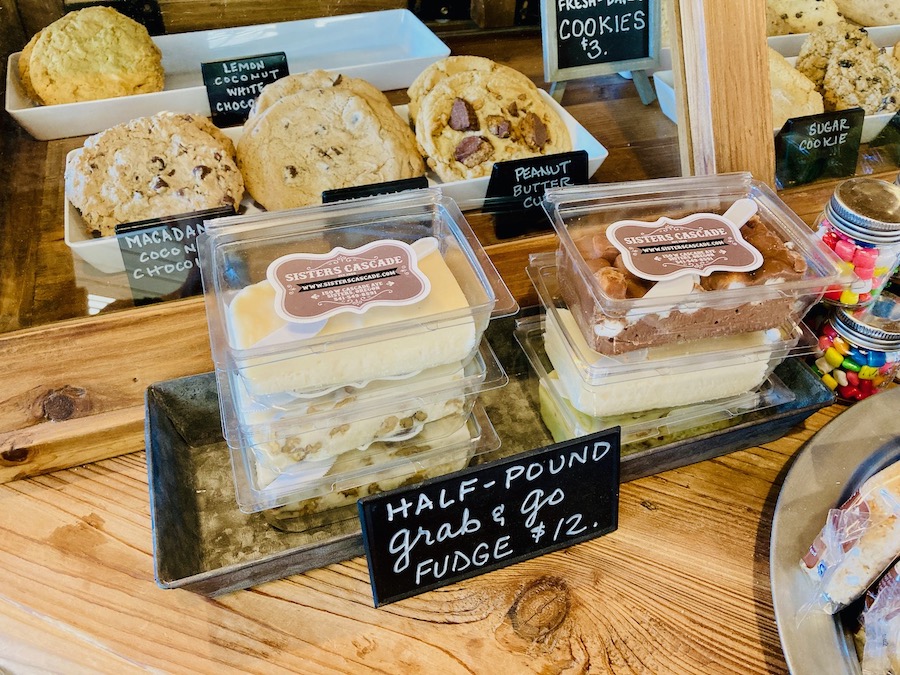 Located right in the center of Sisters' shopping district, The SweetEasy Co is a newer ice cream and sweet shop. There's a large selection of treats, baked goods, and tons of ice cream flavors.
170 W Cascade Ave, Sisters. Open daily 10am to 8pm / 9pm.
---
Sisters Oregon Food Carts
Oregon is known for its food cart scene. There's a great cart pod in Tumalo but you'll also find more and more winning food trucks in Sisters, too.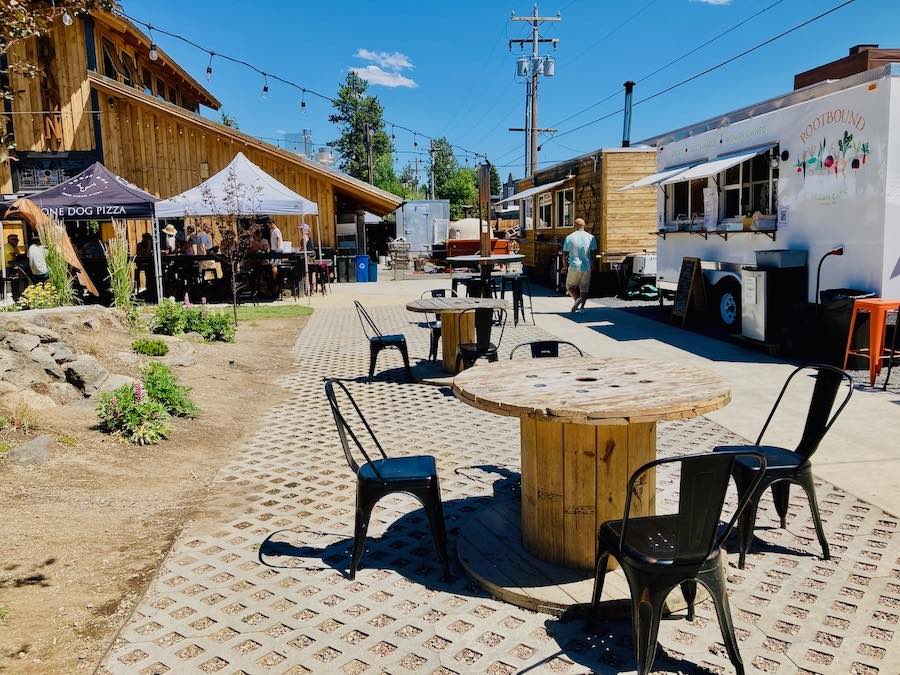 Wonderland Chicken Food Cart, Sisters
Wonderland Chicken Food Cart serves up yummy fried chicken sandwiches with a Nashville twist. While the chicken is the star of the menu, their sides are also a must-try. Choose from their loaded mac and cheese, potato salad, pickle slaw, or sweet potato fries.
Tips: If you can't handle spice, don't worry, they have different spice levels for everyone.
223 E Hood Ave, Sisters, OR 97759. Thu-Sun 11am to 7pm.
Coco Loco Tacos Food Truck
Another great food truck in the area is Coco Loco Tacos. They offer a good selection of Tex-Mex style tacos, burritos, nachos, and quesadillas with fresh, homemade salsas. They even have vegan tacos!
Tips: Fish tacos or fish burritos are must-tries.
223 E Hood Ave, Sisters, OR 97759. Thu-Sat 11am to 2pm (lunch) and 4am to 7pm (dinner). Sun 11am to 2pm (lunch) and 3:30pm to 5:30pm (dinner).
Boone Dog Wood Fired Pizza Food Cart
Boone Dog Pizza is a mobile food cart serving wood fired pizza with fresh produce, ethically sourced meats, and artisanal cheeses. They keep their menu simple but of the highest quality, with seasonal specials throughout the year.
Tips: Favorite pizza toppings include margherita and special pepperoni.
171 E Main Ave, Sisters, OR 97759. Open everyday 11am to 8pm.
Find all these places and more on our interactive map:
---
Downtown Sisters is full of must try coffee shops, gourmet restaurants, and food trucks. With all these delicious options available, choosing where to eat in Sisters, Oregon is a fun problem to have!
Read next:
30+ Best Things To Do in Sisters Oregon
Where to Stay in Sisters: Best Hotels
Best Central Oregon Resorts for Your Vacation
Like this post? Pin it for later or share with friends!