Eagle Crest Bike Route Loop Near Redmond Oregon
Eagle Crest Resort, a short drive from downtown Redmond, Oregon, is a great place for family-friendly recreation.
Eagle Crest is a neighborhood with long-term residents and second homes as well as a Central Oregon resort vacation destination with short term rentals, lodge, and conference center.
The resort straddles Cline Falls Road, with sports center facilities and golf courses on both sides. Eagle Crest has easy hikes like Cline Butte loop trail, the Deschuttes river walk, and Cline Falls.
The resort also has paved walking trails and wider, paved bicycle paths throughout. Off-road trails for mountain biking are also available in some areas.
Eagle Crest Bicycle Loop Trail Map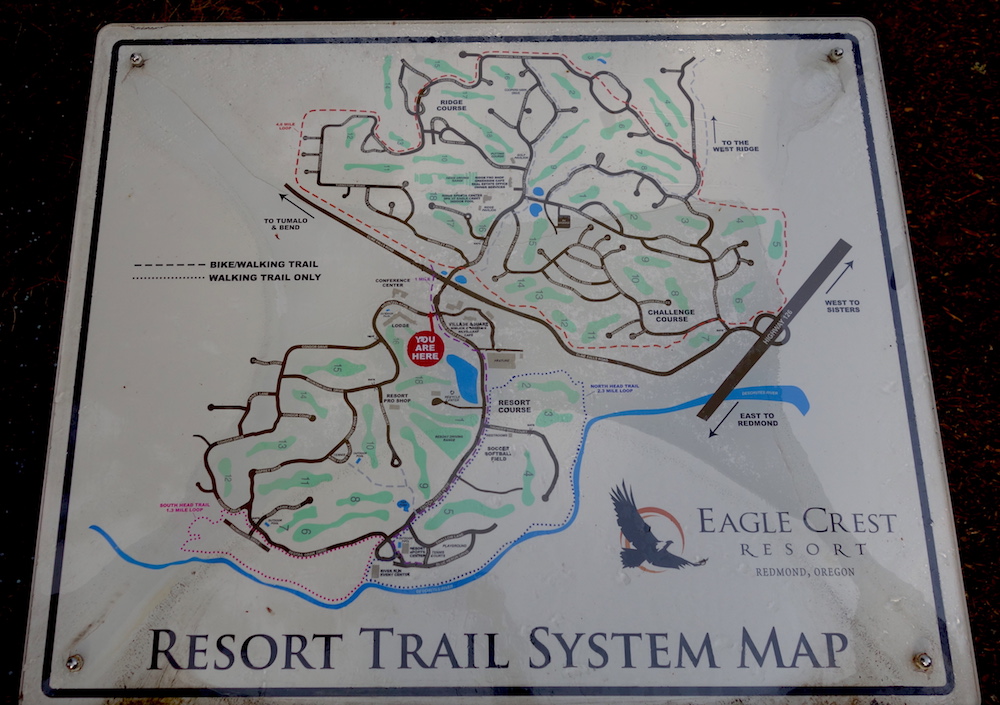 Bicycle loop in Eagle Crest: 7-8 miles
Elevation change: ~450ft
This popular Eagle Crest bicycle route starts at the Lakeside Sports Center off of William Lyche Drive, where there is plenty of parking.
Most of the trails in this part of Eagle Crest are the narrower paths for pedestrians only, though you could certainly bike on the main roads if you wish to add some distance.
The bike trail departs from across the pond and winds through a little valley between neighborhoods. Bikers will need to cross Eagle Crest Blvd, one of the main "thoroughfares" inside the resort. The bike path follows Eagle Crest Boulevard through a non-residential area until it reaches one of the golf courses.
This loop is mostly flat until the path starts to parallel Cline Falls Road and it makes some dips up and down. The southern-most part of the loop is one big hill. We prefer to have electric bikes if we do this part, though it's also great exercise if that's what you're looking for.
You can also add on to the loop by crossing near where Falcon Crest Drive meets Cline Falls Road. This will take you past Eagle Crest Lodge and on to the second Eagle Crest Sports Center near the Deschutes River via the wide bike trail that follows Falcon Crest Drive.
While the bike path doesn't loop around at this end, you could create a loop by following Redtail Hawk and other roads back to the Lodge.
With the many possible extensions to the original loop, you could bike at least 12 miles without retracing your steps much.
Looking for a great place to stay in Eagle Crest?
See our accommodation recommendations here