Float Trip Packing List Essentials for a Perfect Day on the River
Floating is one of the most fun outdoor activities to do during summer, in my opinion. Whether you're river tubing, rafting, or even on a SUP trip, it's a relaxing way to escape the heat and enjoy nature. Here in Central Oregon, we've enjoyed float trips along the Deschutes River in Redmond/Tumalo as well as Bend.
To help you prepare for your own trip, we put together a river floating packing list that includes everything from essentials, accessories, and clothing.
What to Pack: Float Trip Essentials
Let's start with the float trip gear list items that are most important.
Floatation device of your choice – inflatable raft, inner tube, kayak, or canoe
Choosing the proper gear for your float trip all depends on your preferences as well as any safety regulations of the river you'll be going to.
Inflatable rafts are a great idea if you're floating with a group since it'll be more spacious and can allow you to hang out together. Rafts can be simple blow up toys or more like a boat with paddles, like those for white water rafting.
Note that rafts that require paddling would usually fall in the boat category, which means you may need a life jacket, or PFD (Personal Flotation Device) for each participant. Be sure to check local laws for your location.
Kayaks, canoes, and SUPs (Stand Up Paddle Boards) may also require PFDs. They can make for a more active and adventurous experience, allowing you to float faster and further.
Floating in inner tubes is usually more relaxing as you'll feel the water and then drift slowly with the current. Inner tubes are ideal for shorter distances.
Most inner tubes for floating come with some kind of handle or rope so that you can hold on to others in your group. But there are also inner tubes made for two people, which look like a figure-eight. These are great for couples or parent-child floating.
Most water laws don't require a life jacket when floating by inner tubes, but it's always wise to double check.


Sun protection
Sun protection is a must, especially for extra hot days in the summer. Pack a high SPF sunscreen to protect your skin from sunburn and skin damage. For extra protection, a lip balm with SPF is also a good idea.
Also, don't forget sunglasses!


Day bag
You'll need a day bag to keep all of your float trip necessities. You can opt for small dry bags to keep all your personal items like your cellphone, car keys, and wallet dry and close to you at all times.
If you're bringing more things, then a beach bag with zipper is probably a better idea, as long as you don't mind it getting wet.


Water bottle
Stay hydrated on your trip by bringing a refillable water bottle. You can potentially pack a small cooler to keep any other drinks cold during your float trip.
Beach towel
Having a compact and absorbent beach towel is a must-have in your packing list for river tubing. It'll come in handy to dry off quickly and comfortably once you're done.


Change of clothes
A change of dry clothes should be at the top of your float trip checklist. Wet clothes can take a long time to dry so having an extra set of clothes to change into will keep you fresh, warm and comfortable.
Keep reading below for our tips on what to wear tubing.
Insect repellent
Mosquitos breed in water so depending on the area, you may need to prevent insect bites, especially if you're planning on camping or doing multi-day river trips.
The last thing you want is to feel the discomfort and itching of bug bites. Bug repellent will keep pesky mosquitoes and ticks at bay.


Food and snacks
Bring healthy snacks that are easy to carry and share with the whole group such as fruit, trail mix, or energy bars.
Life jacket
This depends on where you are going and what watercraft you'll be using for your river float trip. Many places may not require a life jacket but it's better to check the rules and safety regulations of where you're going.


Air pump
A portable air pump is a must if you're bringing an inflatable raft or inner tube. There are models that plug into cars so you don't have to inflate anything manually.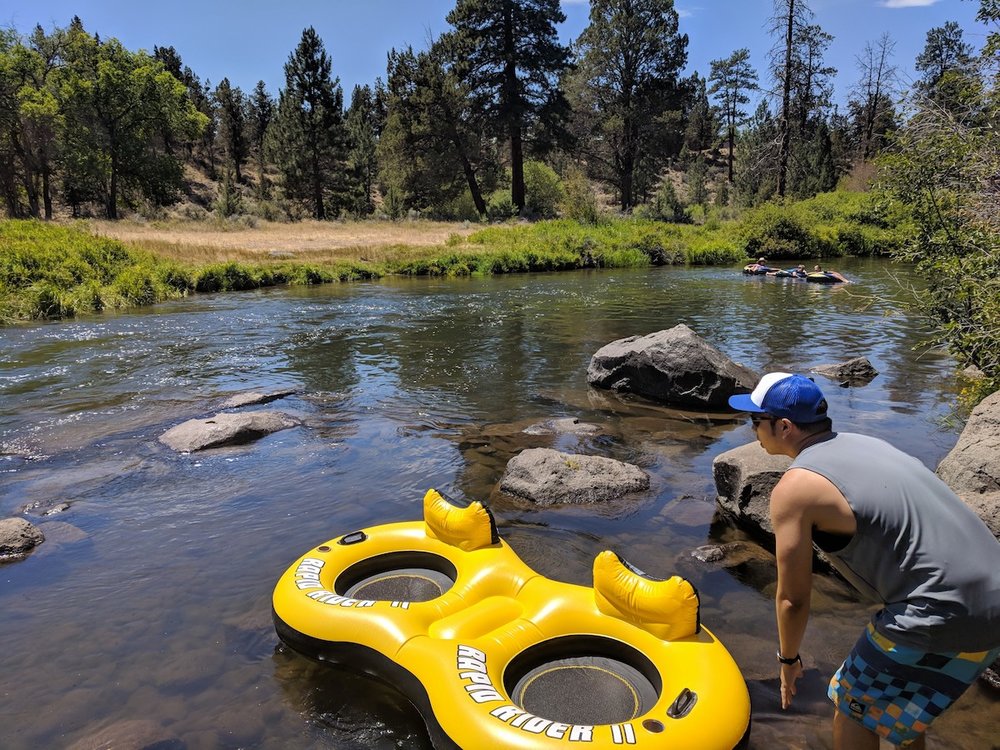 More Ideas for What to Pack: Float Trip Accessories
These floating accessories are not necessarily essential items, so don't worry about them if you need to pack minimally, but they are good things to have in hand.
Cooler
A cooler might be a good item to have, especially on an overnight float trip packing list when you'll need extra drinks and meals. There are even coolers that can be strapped on to your raft or tube so it can float by your side.


Waterproof phone case or pouch
If you're bringing a larger bag with all your essentials but want to keep your phone on you at all times while floating, then a waterproof phone case is a lifesaver. You simply wear it around your neck for easy access and without worrying about getting your phone wet.
A less secure but cheaper DIY version of this would be using strong ziplock bags.


Waterproof portable speakers
Waterproof portable speakers are fun gadgets that are sure to liven up your experience and make for an enjoyable day. There are many in the market that have clips that you can easily attach to your raft or bag.
Just be sure to avoid disturbing others on the water, including human and animal residents, by keeping the speaker volume at a respectful level.


What to Wear on a Float Trip
Bathing suit or rash guard
Since you'll be in the water for most of the time, wear a comfortable swimsuit as your base layer. Another great idea or alternative is a rash guard. Rash guards can protect your skin from the sun and also prevent any irritating chafing against your tube or raft.
Quick drying clothing
For any other extra clothing, make sure it's made of synthetic material that dries quickly. Anything made of a polyester fabric, nylon, or spandex will work.
Avoid cotton, as it takes a long time to dry and can become heavy and uncomfortable when wet. So for summer cotton shorts might not be the best choice, but quick-dry shorts like nylon shorts would be better.
Always take a look at the weather conditions to see if you need to bring extra layers like a light rain jacket or even a warm jacket.
Water shoes
Quick-drying shoes like water shoes or sandals are recommended. These are the best shoes since they have good traction and grip, making it easy to enter and exit the river.
Water shoes also won't be uncomfortable or heavy when wet.
Finally, it's also good to bring extra shoes to change into like flip flops or tennis shoes after your float trip is done.


Protective Accessories
Accessories like wide-brimmed hats or caps will protect your skin from the harsh sun. Portable umbrellas can sometimes be rigged up with your raft, too.
Waterproof Accessories
If you regularly wear a watch or Fitbit, be sure to check that it's water proof. If not, remember to leave it safely behind.
While jewelry and other accessories may not need to be waterproof, ask yourself if you'd be upset should the item become damaged or fall off into the water. For example, we always take off our wedding rings before a float trip to avoid potentially losing them in the river.
Float Trip Packing List
Here's a quick recap checklist for you!
Necessities: 
Inflatable raft or inner tube

Sun protection

Day bag

Water bottle

Beach towel

Change of clothes

Insect repellent

Food and snacks

Life jacket (depending)

Air pump (depending)
Optional:
Waterproof portable speakers

Life jacket

Cooler

Waterproof phone case or pouch
Clothing: 
Bathing suit

Rash guard

Quick drying clothing

Water shoes or sandals

Extra pair of shoes

Hat

Sunglasses
As always, make sure to check the weather and any specific guidelines of the river as you pack your river float trip essentials. This isn't a comprehensive packing list but can serve as a starting point for what to bring on a float trip.
Enjoy your float trip!