Visitor's Guide & Things to Do in Terrebonne Oregon
Terrebonne is a small town in Central Oregon surrounded by natural beauty, offering a gateway to the famous Smith Rock State Park. 
While Terrebonne may be too tiny to be a travel destination in itself, it can make a great base to explore Central Oregon. Or you might find yourself driving through on a day trip and wonder what there is to do in Terrebonne.
Our guide shows you the best places to eat, fun activities to do in the surrounding area, and where to stay.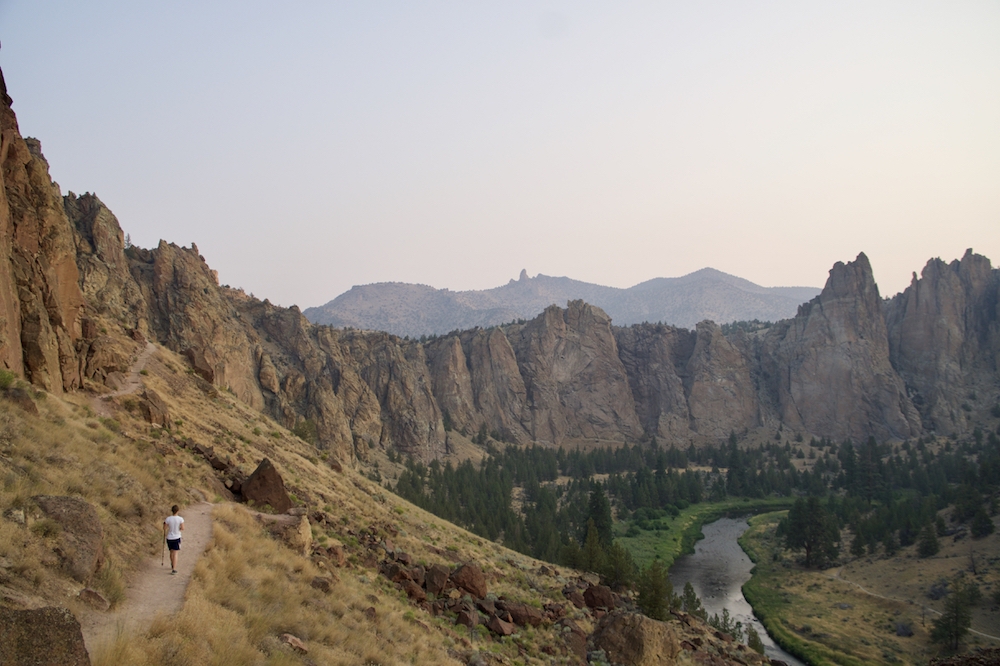 Where is Terrebonne Oregon Located
Terrebonne OR is a small community located in northeastern Deschutes County in Central Oregon. It is most famously located next to Smith Rock State Park.
Terrebonne to Bend Oregon: Terrebonne is 24 miles north of Bend. It's usually around a 35-minute drive.
Terrebonne to Redmond Oregon: Terrebonne is only 6 miles north of Redmond. It's typically less than a 15-minute drive.
Terrebonne Weather Averages
Like much of Central Oreogn, the average temperature in Terrebonne throughout the year typically varies from 25°F to 88°F. It's rarely below 12°F or above 96°F.
Summers are usually warm and dry with an average daily high temperature of 78°F. Winters are cold, snowy, and occasionally cloudy with an average daily high temperature of 51°F.
Terrebonne Oregon Restaurants 
While there aren't many, most Terrebonne restaurants and cafes are well liked. We've had the chance to try a few restaurants in Terrebonne over the years.
Here's a list of some of the best restaurants in Terrebonne.
Terrebonne Depot
Terrebonne Depot is located in a former train passenger depot that's been reformed into a modern full service restaurant. They have indoor and outdoor seating in their pet-friendly patio.
Terrebonne Depot serves comfort food with a gourmet touch. They also have a full bar and a popular happy hour.
400 NW Smith Rock Way, Terrebonne, OR 97760. Thu-Mon 12pm to 8pm.
Pump House Bar & Grill
Pump House Bar & Grill is a laid-back, casual eatery serving pub grub and American classics, from burgers, steaks, and ribs. The bar features beer on tap and specialty cocktails.
We ate here years ago and liked it. They've since extended their outdoor seating area, which looks really nice.
8320 US-97, Terrebonne, OR 97760. Mon-Thu 11am to 10pm. Fri-Sat 11am to 11pm. Sun 8am to 10pm.
Brand 44° N
Brand 44° N is the perfect spot to grab breakfast or brunch. They serve classic favorites like pancakes, French toast, eggs dishes, breakfast burritos, and more.
They also have healthy vegan options like acai bowls, overnight oats, and vegan hash on their menu.
8060 11th St, Terrebonne, OR 97760. Thu-Mon 6am to 2pm.
Terrebonne Coffee Wagon
Terrebonne Coffee Wagon is a small, charming coffee truck that looks like an old-school wagon. They offer a variety of coffee beverages, tea, smoothies, and specialty drinks as well as a selection of pastries and snacks.
8375 US-97, Terrebonne, OR 97760. Mon-Sun 4am to 4pm.
Java Rock of Terrebonne
Java Rock of Terrebonne is another coffee stand with a good selection of coffee and specialty drinks. They also serve bagels, breakfast burritos, and sandwiches.
925 Central Ave, Terrebonne, OR 97760. Mon-Fri 5am to 5pm.
Best Things to Do in Terrebonne Oregon
Here are the best things to do and see while visiting Terrebonne.
Explore Smith Rock State Park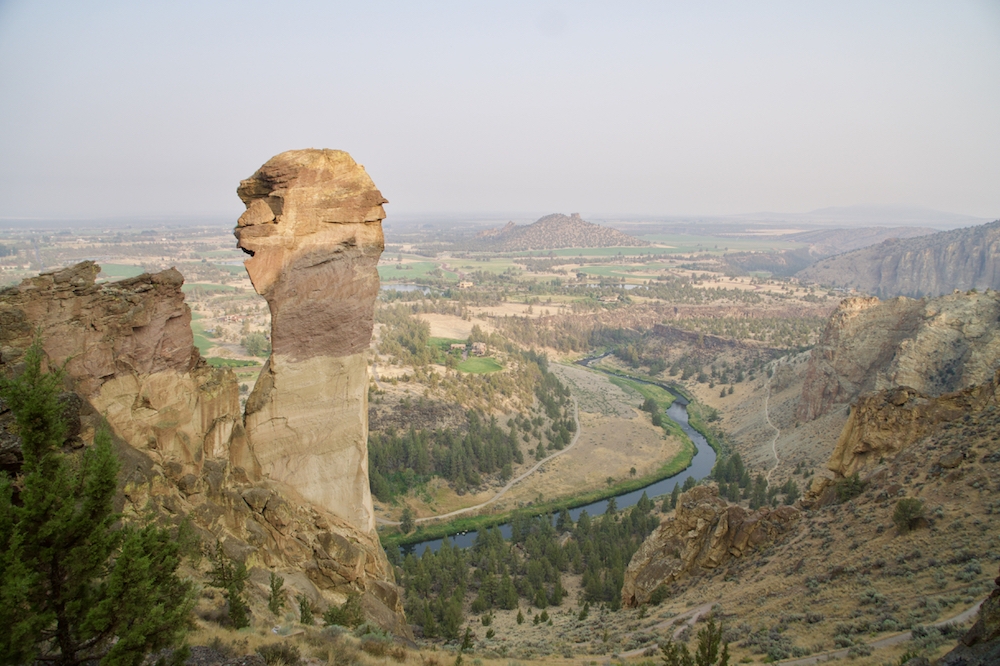 Smith Rock State Park is a must-visit for nature lovers and outdoor adventurers. It's known for its natural beauty with a landscape featuring towering cliffs, rugged canyons, and the Crooked River running through.
Considered the birthplace of modern American sport climbing, the state park is filled with climbing areas and routes of all levels. There are also a number of hiking trails where you can enjoy scenic views of the deep river canyons and rock formations in the park.
Other recreational activities include fishing, horseback riding, and mountain biking.
>> Read our guide for more information on hikes in Smith Rock State Park
>> Find places to stay near Smith Rock and Terrebonne
Visit waterfalls near Terrebonne
Terrebonne is conveniently located near beautiful waterfalls. The closest ones are Steelhead Falls and Cline Falls.
Steelhead Falls is a 20-foot tall waterfall on the Deschutes River. It's around 15 minutes away (9.5 miles) from Terrebonne.
There's an out-and-back hiking trail to the falls that is relatively easy, with some steep sections. The area is also popular for fishing and picnicking.
Cline Falls is one of the highest waterfalls in Central Oregon. It's a steep cascade waterfall along the Deschutes River and is less than 20 minutes away (around 12 miles) from Terrebonne.
There are several viewpoints to admire the falls on foot and easy trail leading there from the Cline Falls State Scenic Viewpoint.
Go wine tasting at Faith Hope & Charity Vineyards
Faith Hope & Charity Vineyards is a family-friendly vineyard nestled between two ridges and a canyon in the Terrebonne area.
They have a wine tasting room that offers a wide selection of American and European varietals as well as a delicious food menu with appetizers, salads, and desserts.
Aside from winery tours, guests can also check out their weekly live music events at the winery's scenic outdoor music venue.
Check out seasonal events at DD Ranch
The DD Ranch holds fun and educational events for the community from farm field trips, a petting zoo, pony and hay rides, and a pumpkin patch.
The ranch also promotes raising livestock with organic practices and healthy environments. You can also buy their products which include 100% grass fed beef, lamb, and heritage pork as well as farm fresh eggs and raw honey.
Try bungee jumping in Peter Skene Ogden State Scenic Viewpoint
For those looking for adventure and adrenaline, go bungee jumping at the high bridge in the Peter Skene Ogden State Scenic Viewpoint.
Run by Central Oregon Bungee Adventures, this bungee site is 300 feet above the river with views of the Crooked River Gorge and Cascade Mountains.
Pick up outdoor gear at Redpoint Climbers Supply
One of the most popular stores in Terrebonne Oregon is the Redpoint Climbers Supply. It's conveniently located near Smith Rock State Park and is the perfect place to buy or rent any outdoor equipment you may need whether it be ropes, shoes, or protective gear.
Redpoint also serves as a hangout spot. They serve coffee and rotating taps of local beer.
Admire the art at the Alfred A. Dolezal Gallery
The Alfred A. Dolezal Gallery is a small, contemporary art gallery showcasing interesting paintings by the Austrian-born artist. His work features an eclectic mix of symbolism and surrealism with vibrant landscapes, wildlife, and abstract elements.
Visit Crescent Moon Ranch
The Crescent Moon Ranch is home to a collection of show alpacas. With views of the Cascade Mountains and Smith Rock, guests can enjoy self-guided tours, observe alpacas grazing in the fields, and shop the ranch's Alpaca boutique. The boutique sells items made from luxurious alpaca fibers like clothing and accessories.
Terrebonne Oregon Hotels
There aren't any hotels in Terrebonne but there are some vacation rentals in town like this rustic cabin with a mountain view near Smith Rock. (affiliate link)
There are more accommodation options in the surrounding area near Smith Rock State Park or the city of Redmond.
---
We hope this Terrebonne travel guide has been helpful for you to find the best things to do, eat, and see in and around Terrebonne, Oregon. If you  have recommendations of your own, please share them in the comments below!