Best Redmond Date Night and Special Occasion Restaurants
After sharing our round up of favorite Redmond Oregon restaurants, we realized that we're a little biased toward breakfast in our list! To make up for it, in this post, we're highlighting fantastic dinner restaurants in Redmond that would be perfect for date nights, birthday celebrations, or other special occasions.
Whether you're looking for romantic restaurants, fine dining, or just somewhere fun to enjoy with someone on a date in Central Oregon, read on for our list of best place to try.
Special Occasions, Date Nights, and Find Dining in Redmond OR
We'll start this list with some of the nicer sit down restaurants in town.
Best Date Night Restaurant in Redmond: Brickhouse
Brickhouse Steakhouse comes first to many peoples' minds when they think of date night or special celebration in Redmond. With a classy Northwest vibe and comfortable seating, the menu features prime steaks, fresh caught seafood, cocktails, and wine.
As the food is top quality, prices are not cheap. Reservations are recommended several days in advance.
Try their: Kobe steak, bacon-wrapped scallops
412 SW 6th St, Redmond, OR. Daily 4pm – 8 or 9pm.
Favorite Overall Restaurant: Diego's Spirited Kitchen
Diego's Spirited Kitchen is a contemporary restaurant serving an extensive menu of Mexican and American/TexMex food. They have a nice ambiance, a full bar, and even a small outdoor patio.
Try their: Osso bucco, mole chicken, seafood dishes
See our photos and review of Diego's here.
447 SW 6th St, Redmond, OR. Mon-Sat 11am to 6pm.
Best Elevated Menu: Feast Food Company
For a dinner that will wow, try Feast where the small but mighty seasonal menus are beautifully plated and full of flavor.
They aim to highlight the local farms from which they source their ingredient-forward meals. Dinner includes tapas-style plates to share as well as local meals, fish, and pastas.
546 NW 7th St. Redmond, OR. Thursday – Monday 11am to 8pm (10am for brunch on Sunday).
Healthy, Upscale Choice: Terra Kitchen
This small farm-to-table restaurant connected to the SCP Hotel in downtown Redmond is known for its fresh, flavorful local dishes inspired by the Mediterranean diet.
The menu at Terra Kitchen changes seasonally and features elevated, plant-forward dishes. For those sensitive to hot/spicy, note that the food at Terra can be on the spicy side.
509 SW 6th St, Redmond, OR. Tuesday-Saturday 4pm to 8:30/9pm
Best View: The Rooftop at SCP Redmond Hotel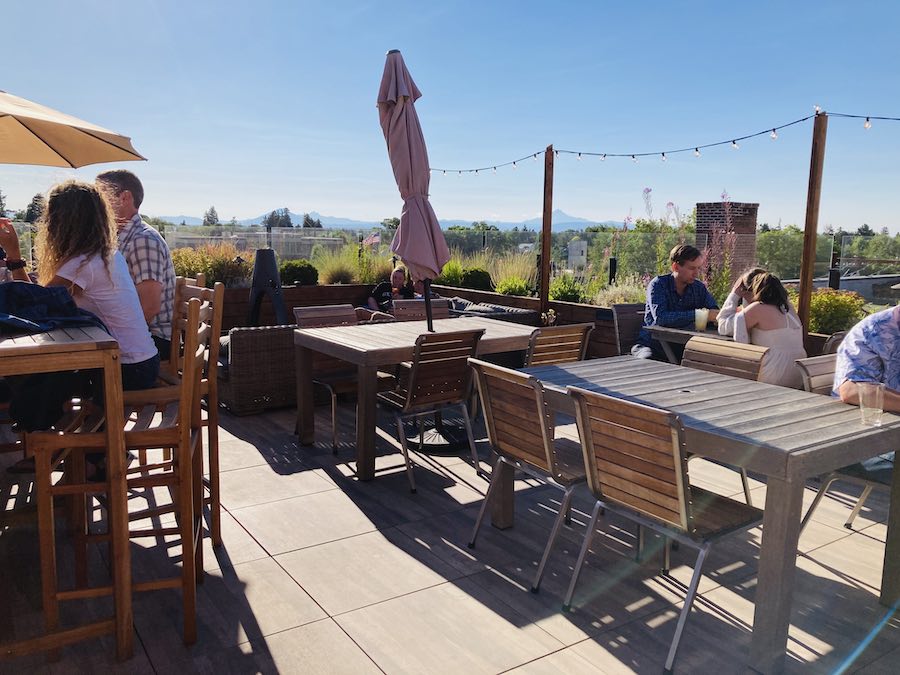 If your plans for a romantic evening include scenic views, then The Rooftop restaurant of the downtown Redmond SCP hotel can't be beat. It's a great place for drinks and appetizers, though some question if their meals are worth the extra expense.
Definitely a unique and memorable atmosphere. Just note that The Rooftop does close for winter.
Carnaval Mexican Grill
Another beloved Mexican restaurant in Redmond with a nice atmosphere and great service, Carnaval uses fresh ingredients full of flavor to create elevated dishes.
Try their: Grilled halibut tacos, Pan de Muerto
343 SW 6th St, Redmond, OR. Daily 11am to 9pm/10pm.
Madaline's Grill and Steak House
Madaline's family-friendly restaurant provides a solid value with Mexican and American fare in generous portions. Even their standard chips and salsa gets rave reviews.
2414 S Hwy 97, Redmond, OR.  Daily 11am to 10pm.
More Casual and Fun Date Night Ideas in Redmond
If you're celebrating a special occasion but want to keep it casual, or maybe you're looking for a weekly date idea to mix up your routine, here are some options for a fun by low-key dining experience.

Grace and Hammer Pizzeria is a wood fire pizzeria in a refurbished church building with indoor and outdoor seating. Their pizzas are made with seasonal and local ingredients and they also have a bar menu with beer, wine, and cocktails.
641 SW Cascade, Redmond, OR. Wed-Fri 4pm to 8pm. Sat-Sun 12pm to 8pm.
Wild Ride Brewing has a big tap room serving beer, cider, and wine. The space features a large outdoor patio with fire pits as well as food carts offering tacos, seafood, pizzas, and more.
332 SW 5th St, Redmond, OR. Mon-Sun 11am to 10pm.
---
I hope these date night and special occasion restaurant ideas help you find some new favorite places to eat in Redmond Oregon. We'll keep adding to the list as we come across more dining gems. Let us know your favorites and what dishes you recommend in the comments!
You might also like:
Best restaurants in Sisters Oregon
Best brew pubs in Redmond
Best breakfast in Redmond
Where to eat in Redmond Oregon
Best things to do in Redmond
Like this post? Pin it for later or share with friends!