Best Day Trips from Redmond, Central Oregon
Explore beautiful destinations in Central Oregon by taking day trips from Redmond. Just a short drive away, you'll have access to charming towns, breathtaking natural landscapes, and relaxing resorts.
Personally, we find Redmond to be a great base for exploring the surrounding area. In this post, we'll share some of our favorite day trips from Redmond, all within a 2 hour drive.
City and town day trips from Redmond
Sisters Oregon
Drive from Redmond: 25 minutes (20 miles)
Sisters is a small town known for its proximity to nature, its unique Old West ambiance and flourishing creative arts community.
We recommend exploring the Sisters downtown district. You'll get a feel of the Western theme with all the old-fashioned buildings, colorful signs, and unique stores selling antiques and quirky souvenirs.
There's also different local art galleries in the Hood Avenue Art District. After exploring the quaint streets downtown, you can grab a bite or drink at the restaurants and breweries in the area. For recommendations, read our guide to the best restaurants in Sisters.
If it's outdoor activities you're on the lookout for, there are several hiking and biking trails like Peterson Ridge Trails and the Whychus Creek Trail nearby.
> Read our guide on the best things to do and see in Sisters.
Bend Oregon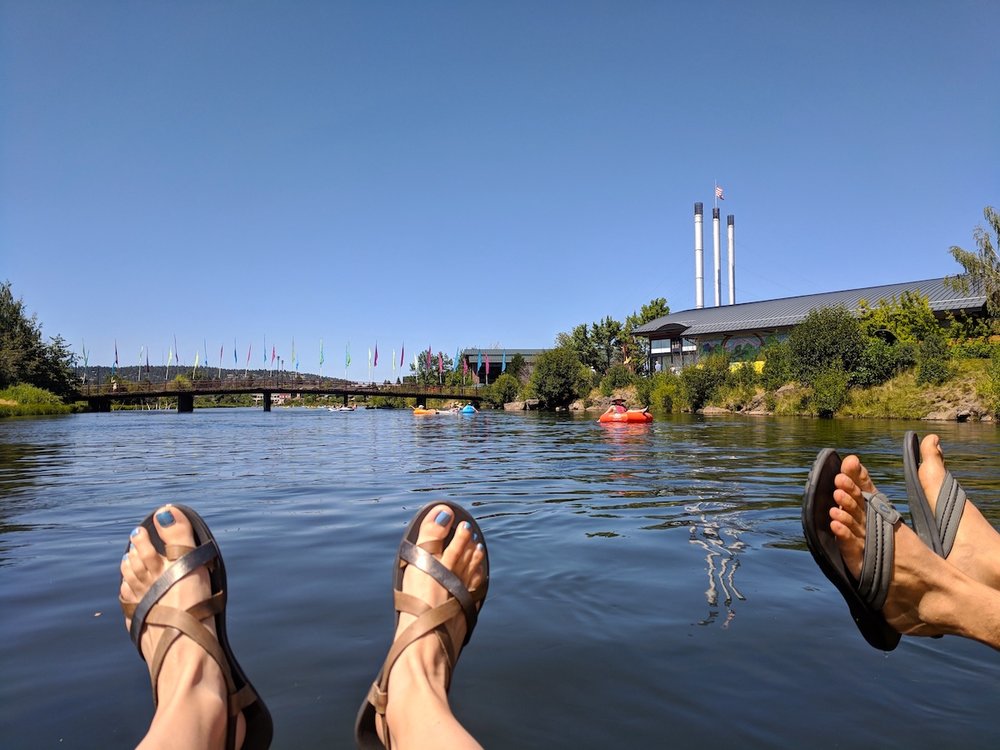 Drive from Redmond: 25 minutes (17 miles)
Bend is one of the more popular destinations and day trips in Oregon because of its natural scenery of snow-capped mountains, the pristine Deschutes river, and trendy shops and eateries.
You might visit Bend on a day trip for outdoor and recreational activities like hiking, floating the river, or biking. There's also opportunities for scenic drives near Bend Oregon, like the Cascade Lakes Scenic Byway.
If you're a craft beer lover, make sure to stop by any of Bend's renowned breweries for a tasting. In recent years, Bend has become known for its thriving craft beer scene.
Aside from bars and breweries, downtown Bend is also lined with a good selection of restaurants and cafes. Live music and outdoor concerts are also a popular draw here.
Tumalo Oregon
Drive from Redmond: 20 minutes (13 miles)
Tumalo is much smaller than Sisters or Bend but there's still a handful of things to see and do for a day trip.
The main highlight is the Tumalo State Park. It's known for its high bluffs, hiking trails and crystal clear river streams. It's great for water activities like swimming, fishing, and floating.
Floating is quite popular so if you're visiting for a day trip, you can easily rent tubes or rafts in the area. You can read more about our experience floating the Deschutes River in Tumalo here.
Tumalo also has some good restaurants and cafes, including a great food cart pod.
> Read our guide on the best things to do and see in Tumalo.
Scenic Redmond Oregon day trips
Smith Rock State Park
Drive from Redmond: 13 minutes (9 miles)
Smith Rock State Park is the perfect day trip for rock climbers. There are thousands of climbing routes for various skill levels all along the park's impressive cliffs and hillsides.
It's also home to several, well-maintained hiking trails with scenic views of the deep river canyons and gorges. Check out our post for more information on hiking in the state park.
You can combine your day trip here with Terrebonne. The small town has a handful of restaurants, cafes, and even a vineyard and ranches that can be worth checking out.
> Read our guide on the best things to do and see in Terrebonne.
Newberry Volcanic National Monument
Photo credit: Rocketman1111 via Wikimedia Commons
Drive from Redmond: 1 hour (55 miles)
The Newberry Volcanic National Monument is a fascinating and unique day trip option. You can learn about the remnants of ancient volcanic activity and admire all sorts of geological formations like cinder cones, lava flows, and hot springs.
One of the highlights is the Lava River Cave. This lava tube formed by the eruption and ancient lava flows can be explored and walked through, which is a unique experience.
Lava Lands Visitor Center provides an interpretive exhibit and ranger talks on the cultural and geological history of this area. Lava Lands has several trails to explore as well as a seasonal shuttle to the summit of Lava Butte.
The Big Obsidian Flow, a mere 1,300 years old, is the youngest lava flow in Oregon.
This impressive site within Newberry National Volcanic Monument has picnic benches and a one-mile interpretive trail that leads you up and onto the awe-inspiring expanse of obsidian and pumice. Ranger talks are held throughout the summer.
Paulina Lake, resting within the caldera of Newberry Volcano, allows both motorized and non-motorized water activities.
For hikers, a 7.8-mile loop around the lake will take you to hot springs, pebble beaches, backcountry campsites, and vistas of Paulina Peak, Diamond Peak, and Mount Thielsen.
If time is limited, the northward trail from Little Crater Campground through the Inter Lake Obsidian Flow leads to an idyllic beach lined with grasses and reeds, home to a tranquil warm springs in the northwest.
While visiting the park, you may also want to stop by Sunriver (more on that below) for a meal on your way back to Redmond.
Mt. Bachelor
Photo credit: Featherlightstudio via Pixabay
Drive from Redmond: 55 minutes (38 miles)
If you're doing a day trip during the winter season, Mt. Bachelor is an ideal destination. The Mt. Bachelor ski area is a popular hub for all sorts of winter activities like skiing, snowboarding, snowshoeing, tubing, and sledding.
There's over 4,300 acres of skiable terrain and more than 100 runs for all skill levels.
You can also take the ski lifts up the mountain summit for incredible scenic 360-degree views of Mt. Bachelor and the area.
Lake Billy Chinook
Photo credit: Ipoellet, via Wikimedia Commons
Drive from Redmond: 1 hour (30 miles)
Lake Billy Chinook is formed by three major rivers, specifically the Crooked, Deschutes, and Metolius Rivers. It's known for its clear waters and its surrounding rugged canyon landscapes.
This a popular lake during the summer for recreational water activities. This includes boating, water skiing, jet skiing, swimming, and windsurfing.
Fishing is another popular activity here because of the diversity of the species from kokanee salmon, smallmouth bass, rainbow trout, and more.
There's also a marina and cafe nearby to relax after a full day of activities.
Mitchell and the Painted Hills
Photography credit: MrX via Wikimedia Commons
Drive from Redmond: 1 hour 15 mins (67 miles)
Explore the geological wonders of the Painted Hills and the tiny town of Mitchell, home of the annual Painted Hills Festival, just nine miles away on Highway 26. The impressive Mitchell Rock formation is found at the town's entrance, with Black Butte and White Butte in view nearby.
The Painted Hills are part of the John Day Fossil Beds National Monument, named for their stratified reds, yellows, golds, and blacks. The hills reveal millions of years of history in the layers of earth with the colors appearing most vivid during the late afternoon.
The one-mile interpretive trail is a great way to explore this unique landscape.
The nearby Clarno Unit features Mars-like pillars formed by waterfalls and volcanic sludge. The Sheep Rock Unit is home to the Thomas Condon Paleontology Center, housing a collection of 40,000 fossils and exhibits on plant and animal evolution from 50 million years ago.
Detroit Lake
Drive from Redmond: 1 hour and 40 minutes (79 miles)
Detroit Lake is a reservoir on the North Santiam River. It was originally created as part of the Detroit Dam project for flood control and power generation but nowadays it's a popular recreational area.
The clear blue waters of Detroit Lake are perfect for boating, fishing, and all sorts of water sports. Fishing is also a popular activity year-round.
Visitors can also take advantage of the picnicking areas along the lake shores and other day-use facilities like a playground and amphitheater. The tiny town of Detroit, which has been recovering from 2020 wildfires, still has a few restaurants and small grocery, as well as a Tesla supercharger station.
Crater Lake National Park
Drive from Redmond: 1 hour and 50 minutes (106 miles)
Crater Lake National Park is home to the deepest lake in the United States. The lake is surrounded by a network of paths and hiking trails with spectacular views. It's also the only national park in Oregon, so it's definitely worth the drive.
Crater Lake National Park is a photographer's dream destination. There is a scenic route called the Rim Drive, a 33-mile trail that circles Crater Lake with views from 30 overlooks. From these overlooks, you can capture some amazing landscape photographs especially during sunset.
If you're looking for more strenuous activities, try one of the marked forest and meadow hiking trails throughout the park. Because of the elevation and diverse landscape, the national park is also a great site for bird watching.
Mt. Hood and Timberline Lodge
Drive from Redmond: 2 hours (96 miles)
Rising to an elevation of around 11,250 feet, Mt. Hood is the tallest peak of Oregon and is home to many glaciers and snowfields. Even though it's a bit longer of a drive from Redmond, Mt. Hood is worth visiting any time because it offers year-round recreational opportunities.
Of course, this area is especially popular during winter. Mount Hood has six ski areas and one of the most well-known ones is Timberline Lodge. Located on the south side of Mt. Hood, the historic ski lodge gives you access some of Oregon's best skiing and snowboarding trails.
The Lodge showcases impressive wood craftsmanship and is famously known for its appearance in the movie "The Shining." It's worth a visit any time of year.
During the warmer months, Mt. Hood transforms into a hiker's paradise. The mountain boasts numerous hiking trails that lead to alpine meadows with great views. For those looking for a scenic drive, the Mount Hood Scenic Byway has a great route through picturesque landscapes.
Resort day trips from Redmond 
If you're looking for a vacation spot, there are many amazing Central Oregon resorts to try. But even if you're not staying overnight, there are a couple resorts worth a day trip visit.
Black Butte Ranch
Drive from Redmond: 40 minutes (28 miles)
Black Butte Ranch Resort is a picturesque retreat nestled in an expansive 1,800-acre ranch with private residences, vacation rentals, and a few areas open the public. It's one of the nicest Central Oregon day trips for those looking for a relaxing getaway.
At the newly renovated Lodge, you can enjoy an upscale dining experience surrounded by the high desert and mountain landscape. For something more laidback, there's also a bar on the second floor with even more panoramic views.
They have award-winning golf courses, swimming pools, a full-service day spa, and several sports courts (some amenities are for overnight guests only). At Black Butte, you can also enjoy activities like fly fishing, kayaking, hiking, horseback riding, paddle boarding, and more.
> Read our updated guide and review of the new Black Butte Lodge
Sunriver Resort
Drive from Redmond: 40 minutes (34 miles)
Sunriver Resort is a well-known Central Oregon resort with a natural setting. The 3,300-acre resort is set in the foothills of the Cascade Mountains with the Deschutes River running through.
You can indulge in world-class golfing, bike along the scenic trails, raft in the nearby rivers, or simply relax at the spa. Sunriver Resort also has shopping and a variety of indoor and outdoor dining options from restaurants, a food truck, and a pub with scenic views.
The surrounding area of the resort and the town of Sunriver is also a great place to go for a hiking day trip. Check out our guide to the best hiking trails near Sunriver Oregon.
---
With all these options for Redmond Oregon day trips, we hope you'll be ready to discover the local culture, natural splendor, and outdoor adventures that the beautiful region of Central Oregon has to offer.
P.S. Many of these day trips are highly recommend by Redmond locals. See our Top 10 Local Recommendations for Redmond here.
Like this post? Pin it for later or share with friends!